Brock Lesnar has reportedly gained some heat in WWE for doing unplanned spots at the Royal Rumble event.
The Beast Incarnate was the 12th entrant in the 30-man match and eliminated several stars before being clotheslined over the top rope by his current rival Bobby Lashley. The former Universal Champion was visibly livid after he was eliminated, and he proceeded to toss the hood of the announce table into the ring, bang a steel step onto the table and assault a referee at ringside.
According to Fightful Select, some of the spots that Brock Lesnar did were not planned, and caught a few people by surprise. The people in the ring and at ringside weren't expecting the stairs spot and weren't prepared for it. The Beast throwing the hood into the ring was also not planned.
A source told Fighful that they knew a freakout was going to happen, and since it's Brock Lesnar, anything and everything should be expected. The unplanned spot that got Lesnar a bit of heat was when he threw referee Eddie Orengo over the barricade. Fightful was informed that it initially looked like Orengo sustained a foot injury, but his status is currently unknown.
---
Brock Lesnar reportedly won't be punished for going off-script at Royal Rumble
According to the report, WWE had plans for Eddie Orengo to raise Cody Rhodes' hand after he had won the Royal Rumble match, but that had to be changed when the former had to sell the attack.
Fightful was informed by a source and confirmed that Lesnar will not be released or punished for going off-script.
"Heat is a relative term for Brock Lesnar. He's not going to get in trouble. He's certainly not going to be fired like Cryme Tyme was. It's a new regime, new rules, and I'm not sure anyone involved was mad or not, but some people backstage were," said the source.
Brock is currently involved in a storyline with Bobby Lashley, and it seems like they will face each other for the third time at WrestleMania 39.
---
Would you like to see another match between Lashley and Lesnar in WWE? Sound off in the comments below!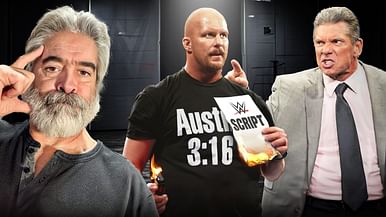 How Stone Cold was born in 2 minutes