Vince McMahon returned to WWE as the Executive Chairman of the Board. He retired from all his positions in 2022 and was replaced by others. His daughter Stephanie McMahon and Nick Khan were named as the co-CEOs of WWE.
Former Women's Champion Stephanie McMahon surprisingly left WWE soon after Vince McMahon made his return. He had allegedly dismantled her core team, about which she was very upset. Stephanie also allegedly said during a backstage meeting that she has 'animosity' with her father's return and major changes being made by him.
Dave Meltzer of the Wrestling Observer Newsletter stated that she had done a great job as the co-CEO but was going to get demoted once Mr. McMahon returned. The Billion Dollar Princess had no reason to continue on and decided to leave the company altogether instead of just stepping down from her position.
''The story internally as to why Stephanie McMahon really left is that, and this comes from those unhappy that she left, is that she had done a great job thrown into the co-CEO role, and with Vince back, was about to be demoted and basically she doesn't need the money or the job and had already decided last year to take a leave anyway.''
---
Will Vince McMahon resume other roles after his return to WWE?
Vince McMahon was not only the Chairman of the board when he retired but also the CEO and creative head. While Nick Khan is now the sole CEO of the company, Triple H continues to be the head of creative. The report also stated that McMahon had not resumed any of his previous duties concerning the production of RAW and SmackDown.
''As for Vince McMahon, there is a difference in him at the office between the Vince of before and this Vince. He is generally working on the sale, and hasn't been to any television shoots yet nor at any creative meetings.''
It was also noted that unlike before, Mr. McMahon leaves his office at normal hours now that his duties are reduced. He was known to spend whole days and nights in his office earlier, especially due to creative meetings.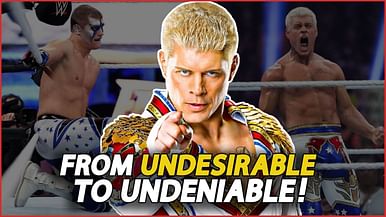 How Cody Rhodes returned to WWE and change pro wrestling forever!
Poll : Should Stephanie McMahon have resigned?
657 votes
Edited by Gurjyot Singh Dadial