The Judgment Day has run roughshod on the main roster in WWE since forming the faction with Finn Balor, Rhea Ripley, and Damian Priest at the helm. The wicked faction would then recruit Dominik into their ranks and are now looking to expand for another member they might have their eye on.
All group members have put in extraordinary performances in matches and have leveled up their star status as a result. Rhea Ripley's popularity grew as she paired up with Dominik and won the SmackDown Women's Championship. Damian Priest had a showcase match at Backlash against Bad Bunny to cement his top-star status.
It seems WWE is hoping to do the same to JD McDonagh, as they're looking to add him to the faction sooner rather than later. Xero News has reported that it's only a "matter of time" until Finn Balor brings him into The Judgment Day and establishes him as a member.
You can check the report out here.
WWE has already teased his addition to the group as Finn Balor was spotted watching him as he spoke in an interview with Cathy Kelly over on Monday Night RAW this week. We'll have to wait and see how all of this will unfold when the time comes to recruit him for The Judgment Day.
---
Former WWE writer feels that JD McDonagh will fail on the main roster
Vince Russo is known for being outspoken about his prediction for star power, considering his longtime experience in the wrestling industry. He recently spoke about JD McDonagh joining the main roster and made negative comments about him.
JD McDonagh, previously known as Jordan Devlin, recently joined the RAW main roster after being part of the WWE Draft of 2023. The Irish star spent a few years working down in NXT but has considerable experience in the wrestling business as he was trained by none other than Finn Balor himself.
However, it seems that not everyone is excited about the prospect of JD McDonagh being a regular on Monday Nights in WWE. Russo recently spoke about his presentation on Sportkeeda Wrestling's Legion of RAW and stated that he lacked any character and might be set up to fail quickly:
"This guy is a wrestler with an Irish accent. There is no character; there is nothing. He could be Sheamus; he could be a Drew McIntyre. He is a wrestler with an Irish accent calling himself 'The Irish Ace.' So, there is zero character at all. This is a wrestler from Ireland."
Would you like to see JD McDonagh join The Judgment Day? Sound off below.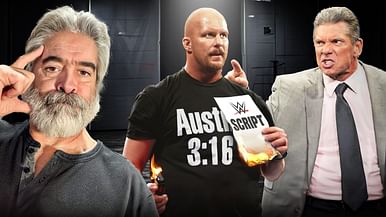 How Stone Cold was born in 2 minutes