Cody Rhodes will finally get the chance to fulfill his dream of becoming the WWE Champion when he faces Roman Reigns at WrestleMania 39. This, however, was not the original plan for The American Nightmare. He was set to face Seth Rollins or Drew McIntyre for the WWE title on Night One while Roman Reigns faced The Rock on Night Two.
WWE tried to get The Rock to wrestle a match at WrestleMania this year. If the megastar would have agreed, then the 'Mania would have been very different for Cody Rhodes. The former AEW TNT Champion won the 2023 Royal Rumble match and challenged Reigns for the Undisputed WWE Universal Championship.
Dave Meltzer of the Wrestling Observer Newsletter revealed that WWE had to change the original plans for Rhodes because of The Rock. Numerous decisions that the company made were based on The Rock's return. However, The Brahma Bull refused to compete at WrestleMania this year.
''It is not clear that the Usos match will be on night one, but when the original idea was to create a second World Title, with Rollins, Drew McIntyre or Rhodes (Rhodes would be in this if The Rock was facing Reigns) as the three people considered for it, that was to be the night one main event,'' said Meltzer
---
Will Cody Rhodes win at WrestleMania 39?
Ever since Cody Rhodes returned to WWE last WrestleMania, he has made it clear that he has one goal in mind. His primary reason for returning to the company was to become the WWE Champion. The storyline with Roman Reigns has emphasized how he could never reach the success that Reigns did in WWE. Here's what Cody said on The Bump:
"If I'm able to get to the finish line, biggest WrestleMania of all time, SoFi, in Hollywood, if I'm able to get to the finish line and get my hands on these things that, like I said, that have alluded my family up until now… maybe it's just a pipe dream, maybe it's just a thought, a glimmer, but it would be fun to just say let's just boil them down and bring back the Winged Eagle.''
Roman Reigns has been the Universal Champion for over 900 days. There is a belief that WWE wants him to complete 1000 days as the World Champion. However, the fan sentiment is with The American Nightmare and they want to see a new champion crowned at WrestleMania.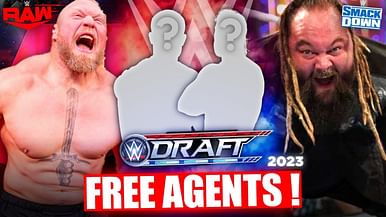 Brock Lesnar and 10 WWE stasr who are FREE AGENTS
Poll : Who would have been a better opponent for Roman Reigns?
1898 votes
Edited by Gurjyot Singh Dadial