It has been reported that WWE has plans for Gunther to break Honky Tonk Man's historic 453-day Intercontinental Championship reign record.
The iconic championship is currently held by Gunther, whose reign stands at 359 days and counting. He is only 94 days away from breaking the record that has stood for nearly 36 years at the time of this writing.
According to a recent report from WRKD Wrestling, company higher-ups have been discussing The Ring General potentially surpassing Honky Tonk Man's long-standing record.
"We've learned that there are internal talks for Gunther to pass Honky Tonk Man's all-time historic Intercontinental championship reign. He'd officially break the record on September 6, 2023."
Since capturing the belt in June 2022, the Austrian star has defeated many top stars, including Sheamus, Drew McIntyre, Rey Mysterio, Shinsuke Nakamura, and Braun Strowman.
---
Gunther wants to face a multi-time WWE Champion
The Ring General has impressed fans and company executives with his hard-hitting style. Hence, many want to see the Imperium leader go one-on-one with Brock Lesnar.
On the My Love Letter to Wrestling podcast, Gunther said he'd like to face The Beast in the United Kingdom.
"I don't think we needed to have lots of action going on with him, get into a little scuffle and stuff, just the moment and the crowd reaction for that, it was all I needed. Just see how people (...) on the internet, you read stuff, and people get easily excited, but often, the hype from online doesn't translate to the venue. When that happened, I was like, compared to the US, especially in England, people understand competition."
The Intercontinental Champion explained why the UK could be the ideal location for a match between him and Lesnar.
They [British fans] tend to look at the match and take it as a competition and then emotionally react to it, rather than expecting the fireworks right away," said Gunther. [H/T - Fightful]
WWE fans got a taste of a potential Brock Lesnar vs. Gunther match in January as the two stars confronted each other during the Men's Royal Rumble match.
Which WWE star will be the one to dethrone Gunther? Give us your predictions in the comments section below.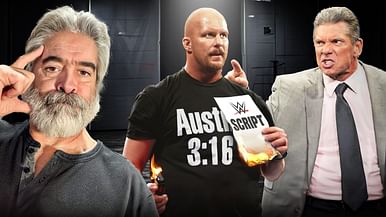 How Stone Cold was born in 2 minutes