What's the story?
As per my sources, the WWE is planning to pit Braun Strowman against Roman Reigns in an 'Ambulance match' at Extreme Rules. This is interesting, due to their history revolving around ambulances. You can listen to my Podcast Dirty Sheets below:
In case you didn't know...
There have been four ambulance matches that the WWE have held in the past, the most recent being Dean Ambrose vs. Bray Wyatt in 2015. Some of the other matches included John Cena versus Ryback, Kane versus Shane McMahon and John Cena versus Kane. The 'Big Red Monster' Kane and John Cena are veterans in this type of match.
The heart of the matter
After the recent match at Payback, which saw Braun Strowman brutally destroy Roman Reigns in the main event, the WWE have scheduled an 'Ambulence match' between the two at Extreme Rules.
After the match at Payback, Strowman went so far as to chase Reigns down when the 'Big Dog' was about to leave the arena in an ambulance, only for the Big Dog to step aside as the Monster among Men ran into the ambulance's door instead.
The 'Monster Among Men' knocked the door right off its hinges and was left in a daze.
The fact that the WWE has made the decision to hold an 'Ambulance Match' at Extreme Rules is mainly due to the history that Strowman and Reigns' feud has shared with ambulances in the past.
Despite the fact that Roman will be looking for revenge, DS Breaking News reports that the WWE have decided that Braun Strowman will beat Roman Reigns.
What's next?
Dirty Sheets has also confirmed that after Braun Strowman defeats Roman Reigns in the ambulance match, he will become the #1 Contender for the WWE Universal Championship and face Brock Lesnar for the same in a match at 'Great Balls Of Fire'.
Author's take
There have been mixed reactions within the WWE Universe regarding Roman Reigns. Some fans feel that he gets undeserved hate, whereas others feel he isn't getting enough. However, all that doesn't matter when it comes to the 'Monster Among Men', who will supposedly get a chance at the title if he beats Roman at 'Extreme Rules'.
---
Send us news tips at [email protected]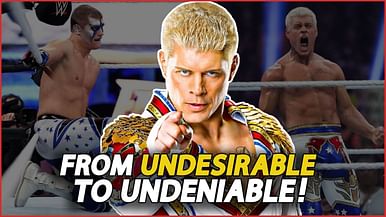 How Cody Rhodes returned to WWE and change pro wrestling forever!