If you missed the news earlier in the month, 'Mr. No Days Off' Fred Rosser (AKA Darren Young) recently signed on to be a contributor for Sportskeeda. His first article detailed the time CM Punk embraced him in the WWE locker room after he publicly came out as openly gay in the summer of 2013.
While fans eagerly await his next article, allow me to bridge the gap. I had the chance to chat with Rosser on my radio show in Cincinnati, OH over the weekend. We discussed a number of topics including his in-ring career, which he says is not coming to a close anytime soon.
Since his release from WWE in 2017, Rosser has stayed in ring shape by working Indie events. My co-host asked about the possibility of him getting back into wrestling full time, specifically whether he may show up for AEW in the near future:
"Just because moves aren't being announced, doesn't mean moves aren't being made. I am at it as we speak, but my ultimate goal is to do Japan man. I've never wrestled out in Japan... I've been able to wrestle all over the World except Southeast Asia, so that is my ultimate goal as we speak."
Rosser recently caught his first New Japan Pro-Wrestling show and had high praise for the company. He says he's ready to do what is necessary to get an opportunity overseas:
"I definitely envision myself doing a tour of Japan. Just give me a shot, give me a tryout. You know, 17 plus years in the business... I check my ego at the door. If I gotta tryout, I'm gonna do it. That's what I'm working on now. -- After the holidays, after Thanksgiving, I'm going to do what I gotta do and tryout. So we'll see what happens."
Rosser also didn't close the door on a return to WWE programming, saying he'd be interested in doing something with NXT or with FOX, presumably on WWE Backstage.
In the meantime Rosser remains an avid fan, and continues to take in as much WWE, AEW, and other promotion's programming as he can. Keep an eye out for new Sportskeeda exclusive content from Mr. No Days Off.
You can hear my entire conversation with Fred Rosser (AKA Darren Young) on my show page.
---
We want to know what you think of the matches that you see on TV! Go to our WWE page here to rate them!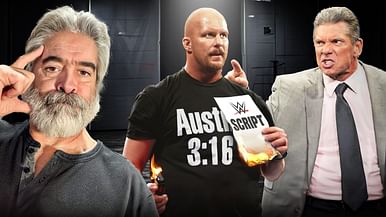 How Stone Cold was born in 2 minutes
Edited by Michael McClead