The Royal Rumble event is one of the most anticipated WWE events of the year, due to the stakes that are on the line for the winners. If you win this match, you are almost guaranteed to be in the World Championship match at WrestleMania and the odds say you are likely to become a world champion in that match.
However what about those who don't win the match and get eliminated? I'm specifically speaking about those who are eliminated quickly, and some of the most iconic moments in Royal Rumble history come from an elimination or potential elimination.
Take Kofi Kingston, for instance. His ability to not get eliminated from the match is what he's most known for and he's never won the match. However today we are not here to discuss those who didn't get eliminated, instead those who have been.
This article will outline the fastest eliminations in Royal Rumble history. You'll notice there have been quite a few of them and nobody on this list was in the Royal Rumble for more than five seconds.
---
#5 Titus O'Neil and The Godfather - 5 seconds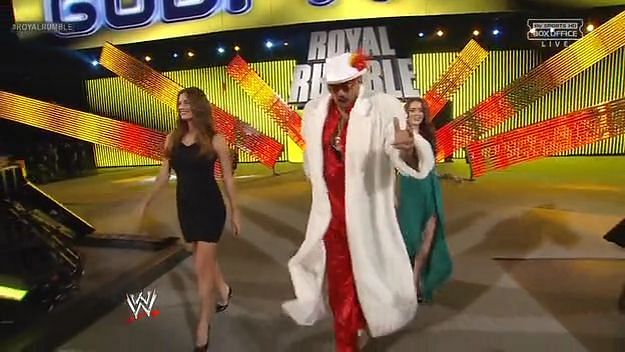 These two men are tied for 5th place on this list with only being in the Royal Rumble match for five seconds. That's right, the fifth place on this list goes to two men who lasted in the match for less time than it takes to count someone out of a match. In 2019, Titus O'Neil was quickly eliminated by Curt Hawkins almost immediately after entering the ring.
The Godfather found comfort in his "ho train" after being eliminated quickly in the 2013 Royal Rumble event by Dolph Ziggler. The Godfather who was not an active wrestler on the roster made a special appearance in that Rumble match only to be dispatched quickly right back to his ladies of the night.
#4 Titus O'Neil, Jerry Lawler, and Bushwacker Luke - 4 seconds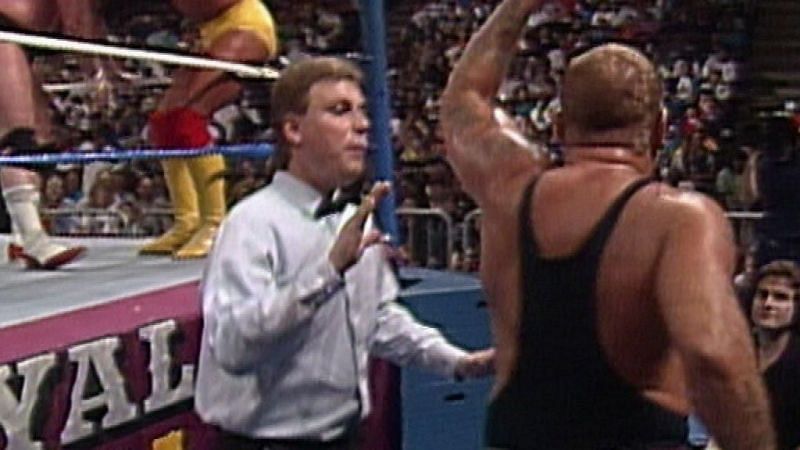 Three men are tied for fourth place on this list lasting only four seconds in the Royal Rumble match.Quite possibly the most iconic elimination in WWE history, certainly the one that has seen the most promo time in hype videos, is Bushwacker Luke's elimination. In 1991, Luke was dumped over the top rope and didn't break stride with his landing and began his signature Bushwacker Walk back to the backstage area.
In 1997. Jerry Lawler entered the Royal Rumble match from the commentary table and was immediately dispatched out of the Rumble by Bret Hart. Lawler, who had a long-time feud with Hart, was dumped over the top rope and then proceeded to go directly back to commentary.
Poor Titus O'Neil is on this list again and would possibly be higher on this list if the elimination had taken place properly. Ambrose and Reigns eliminated O'Neil, however, on first attempt he didn't go fully over the top rope and then had to be hit again to properly eliminate him.
#3 Owen Hart, Mo, and Xavier Woods - 3 seconds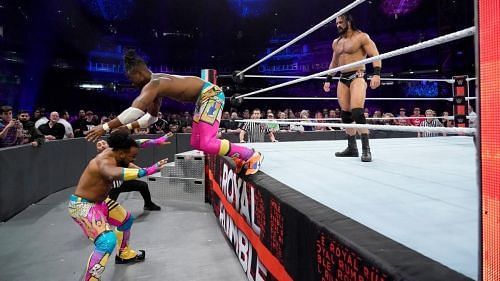 This grouping of Superstars was all eliminated in three seconds, that's right they were eliminated at the same time it theoretically takes to get pinned.
The 1995 Royal Rumble featured two men getting eliminated in three seconds with The King of Hearts Owen Hart being tossed out by the British Bulldog, and Mo eliminated by King Kong Bundy. Hart and Bulldog, if you remember, were tag team champions in the nineties and Mo was a former stablemate of Mable in Men on a Mission.
Drew McIntyre hopes to have a fantastic showing in the 2020 Royal Rumble and is a hot pick to win the event. In last year's Rumble he eliminated Xavier Woods in just a mere three seconds.
Mike Kanellis was another Superstar who was eliminated in three seconds, but that happened at the Greatest Royal Rumble match, which means that he doesn't quite make this list. He was eliminated by the World's Strongest Man Mark Henry in 2018.
#2 The Warlord, Sheamus and No Way Jose - 2 seconds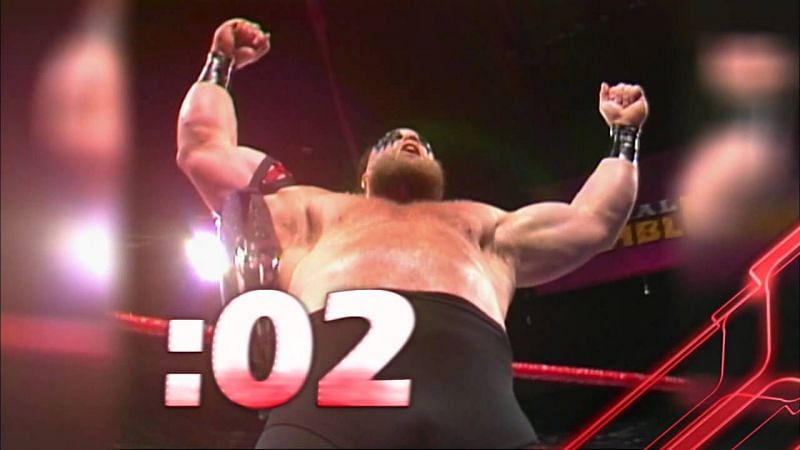 The Warlord held the record for decades of being eliminated earlier than any other entrant into the Royal Rumble match. The moment he stepped through the rope the Immortal Hulk Hogan clotheslined him back over the top rope, eliminating him in just two seconds.
Warlord would have the distinction for being the Superstar eliminated faster than anyone ever in match history.Two other men have been eliminated in a quicker time than it takes to get pinned, one of which happened in 2018.
In that Royal Rumble match, Sheamus was eliminated by Heath Slater in just two seconds, this came after an attack during Slater's entrance; I bet his kids were proud of him. Sheamus is a former winner of the prestigious event which makes this record even more baffling.
The third person on this list would be the congo-leading No Way Jose. At last year's Royal Rumble, No Way Jose made his way to the ring and was immediately disposed over the ropes by Samoa Joe.
#1 Santino Marella - 1 second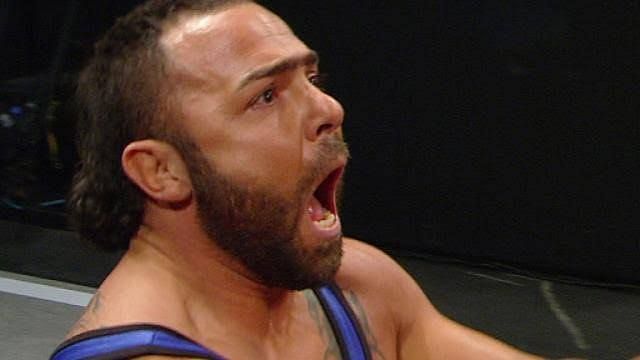 As I mentioned in the previous slide The Warlord would hold the record for the fastest elimination for nearly two decades, and exactly twenty years after that elimination Santino Marella would take that record.
One second, one second would become the time in which the sock-wearing, trumpet-playing, cobra-screaming Superstar would get eliminated. He solidfied a record that will never be broken, after Marella entered the ring and was immediately sent back over the top rope by Kane.
Kane who has an expansive list of Rumble records now also owns the record for the fastest elimination of an opponent. The most memorable part of the elimination, however, is the response after Marella realized that he is no longer a part of the match.
He began shouting "I wasn't ready, I wasn't ready" which had fans at home and in attendance laugh hysterically. Santino will always be remembered for the comedy he brought on screen in his WWE segments and this may be his best comedic moment ever in his lengthy career.
Edited by Nishant Jayaram