Vincent Kennedy McMahon Jr., is the owner of a unique business venture WWE, a Sports Entertainment company. McMahon houses around 15,000-20,000 people every week on his RAW and SmackDown Live brands, but the WWE chairman has his own properties worth being envious of.
In this piece, we take a look at where this genius, playboy (on-screen character), philanthropist billionaire lives his king-sized life.
In 1972, McMahon bought the company from his own father and built his empire. His vision truly transformed the wrestling business, back when promoters had their own territories. McMahon unified all of American wrestling and broadcasted it directly into people's homes!
Then came the WrestleManias, Monday night RAWs and the television rating wars with WCW. From filing for bankruptcy in 1976 to becoming a billionaire in the 1990s, his is a true rag-to-riches success story.
Now for such a rich guy, it isn't surprising that he has a wide range of luxurious belongings. The guy rides a limousine to his office, has a private jet and a yacht. However, one of his most costly possessions is his mansion along Hurlingham Drive.
Located in Greenwich, Connecticut, Conyers Farm (as McMahon named it) is a prime location to stay in, just on the outskirts of the city. It also has a lot of other celebrities and important US citizens in its neighbourhood.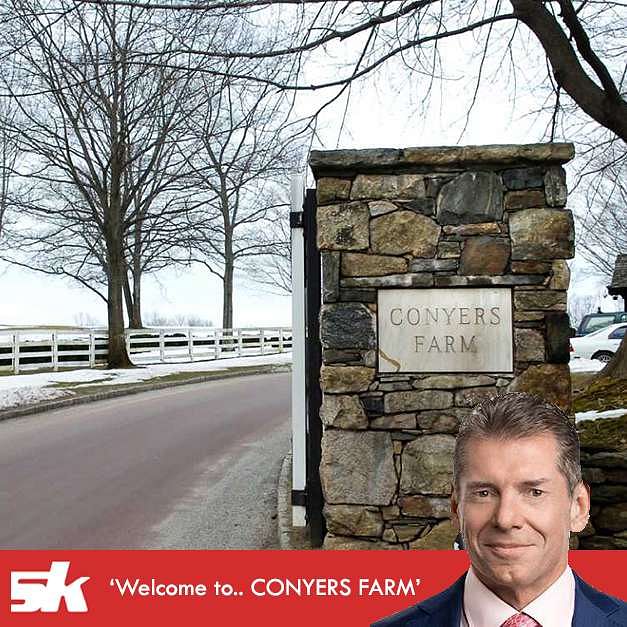 McMahon's mansion is a huge piece of land surrounded by nature – there are tall trees and open spaces wherever you look. The Hurlingham Drive residence has two large white gates at the entrance and a long driveway to the house. The drive from the gate to the front yard is flanked by big beautiful trees on velvety green grassy lands.
Once you reach the front yard, you are greeted by a beautiful fountain. From there, your car goes straight into the big garage adjacent to the front yard.
Speaking of cars, McMahon always has a few of them parked around.The $200,000 Bentley Continental GT 2010 model stands out amongst them. The sporty but classy ride is the perfect vehicle for the chairman of the WWE. Vince McMahon has also installed a car stereo system worth a whopping $100,000 in his Bentley.
Back in 2015 the car was reportedly stolen and found in the Bronx region of NewYork by the police. We have also witnessed Vince McMahon's ride being destroyed by everyone's beloved Degeneration X and Stone Cold Steve Austin.
Also read: Stephanie McMahon's net worth revealed
In 1998, Stone Cold filled up McMahon's $50,000 Corvette with cement. Then in 2006, Shawn Michaels and Triple H 'took care' of Vince's limo. And who can forget when Mr McMahon's limousine blew up right after he entered and closed the doors.
Crazy, isn't it? Now let's get back to the mansion.
Linda and Vince's backdoor leads to an open corridor that has not one but two huge gardens on both sides. On the side of one of the gardens lies a beautiful pool.
Now Vince is a hard-working guy, and a man of his age should be resting in his bedroom a lot. His three-storeyed mansion has seven of those plus nine bathrooms, a gym, guest rooms. You name it, he's got it.
The manor also has a conservatory area, where the rich couple probably relax in their free time. One cannot put a price on a home, but the McMahon family's 10-acre abode was estimated to be worth around $40 million as of 2006. It was purchased for around $25 million back in the day.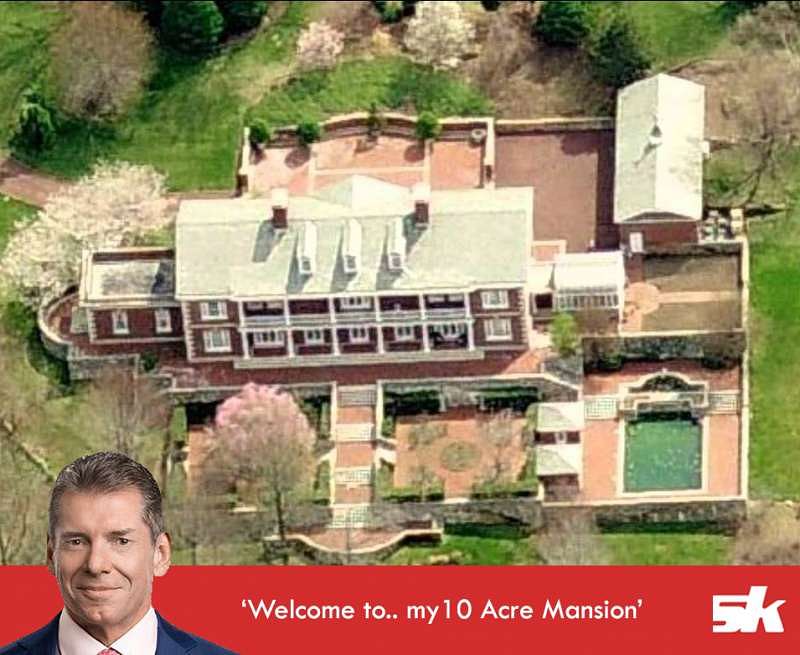 Another convenient thing is that McMahon's house is a half-hour drive from his daughter Stephanie and son-in-law Paul Levesque's (a.k.a Triple H) house. Triple H and Stephanie have their own manor in Weston, Connecticut. The closely located houses make it easy for the grandparents to spend quality time with Steph's three daughters.
The design of the two houses is pretty similar. Both are gated properties, and have outdoor pools, a vast open area behind the house, a long driveway surrounded by tall trees and an adjacent garage. Furthermore, both the properties are not far away from the WWE headquarters in Stamford.
Fun Fact: Neighbours were not too excited when they knew that someone involved with pro-wrestling had come to live amongst them. This snobby attitude inspired Vince McMahon to create the character of Hunter Hearst Helmsley or HHH!
In mid-2016, news broke that Vince had sold more than 2 million of his WWE shares worth about $40 million for "estate planning purposes for the benefit of Mr McMahon and certain members of Mr McMahon's family."
Also read – Vince McMahon's net worth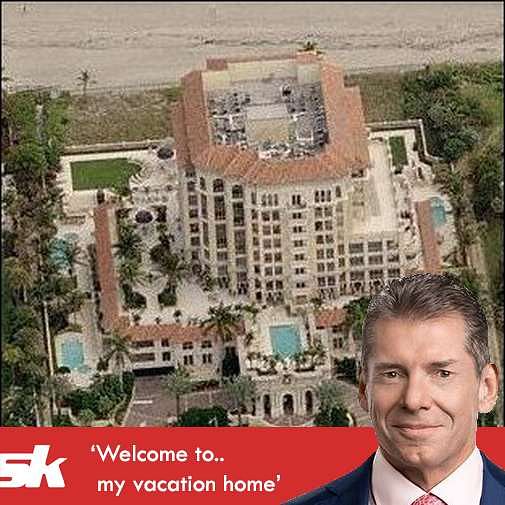 Another of McMahon's properties is situated in Florida. As it is far from Connecticut, where the company is run, it serves as the McMahon family vacation home. Bought in 2002 for a low price of around $2 million, this Boca Raton residence was converted into a two-storey penthouse suite after Vince purchased the top two floors of the building.
It is also probably here that he docks his 'Sexy Bitch' (his 47 feet yacht).
Looking back to Connecticut, the McMahons also have a piece of real estate at the Trump Parc in Stamford. It is the largest duplex penthouse to be offered in the building, and it covers around 4000 sq ft.
Vince and Linda spent around $4.1 million back in 2010 for this beauty, which is just a couple of minutes' drive away from Titan Towers, which is where the WWE head office is situated.
Also read: What is the net worth of Triple H?
The condo includes three bedrooms and three and a half bathrooms, as well as a private terrace. Apart from that it also has a luxurious heated pool, full gym, sauna, private screening room and a rooftop observation deck.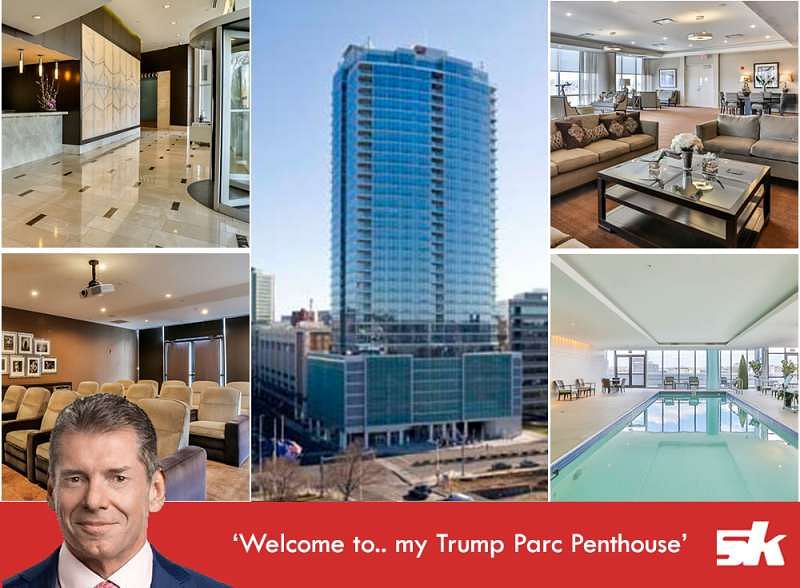 WWE have played the home invasion angle on more than one occasion, be it with Stone Cold Steve Austin invading Brian Pillman's house or HHH going after Randy Orton in his own residence. In 1999, 'The Ministry of Darkness' headed by the Undertaker marched into McMahon's mansion along with his minions.
It was later revealed that The Undertaker was disguised as Kane on that particular show the whole time. Crazy TV bookings during the Attitude Era, I must say. They also had a lot of In Your House PPVs back in the 90s; maybe there is a connection there.
Apart from the properties listed in the article, Vince McMahon also has two Stamford condos, a house and condo in Greenwich, a vacation home in Boca Raton, a condo in Las Vegas and a property in Pennsylvania. At 71 years of age, he is showing no signs of slowing down, let alone stopping.
---
For latest WWE News, live coverage and rumours visit our Sportskeeda WWE section. Also if you are attending a WWE Live event or have a news tip for us drop us an email at fightclub (at) sportskeeda (dot) com.
A former WWE writer thinks Bronson Reed's push could be in jeopardy here.