What's in store for Brock Lesnar prior to WrestleMania XXX?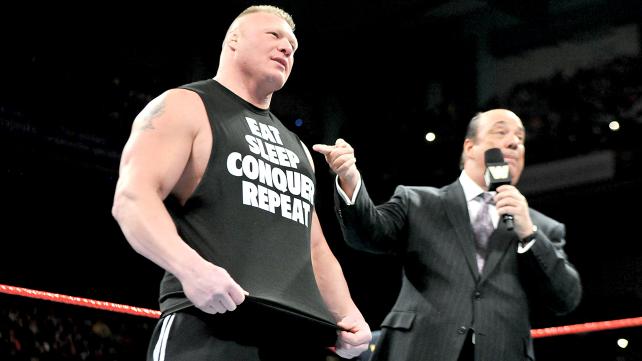 Brock Lesnar has six more appearances left in his WWE contract, which also includes his WrestleMania XXX match.
These are – January 20 Raw, Royal Rumble, January 27 Raw, Elimination Chamber, February 24 Raw and WrestleMania XXX. In his last two appearances, Lesnar (along with Paul Heyman) stated that he will face the winner of the Cena-Orton match and a week later he got into a brief fight with the second-tier star Big Show, killing nearly all the hype about his return.
His feud with Big Show
Apparently, Brock is wasting 2 of his 6 appearances on Big Show. It looks more of a waste after today's episode of Raw, as Lesnar didn't appear during/after Big Show's match, and this has nearly halted their freshly-developed feud. Lesnar will return on the next episode of Raw and will then resume his feud with Big Show and then wrestle him at Royal Rumble. The question is what's the point of this feud?! Big Show isn't a top wrestler anymore, especially after his recent booking in some awful matches, including his feud with Randy Orton. So, WWE is simply wasting Lesnar's appearances and with that their own money. A simple one-on-one match with Big Show, really WWE?!
When will he get his impending Championship match? At Raw or Elimination Chamber?
If we discuss the case where Lesnar will face the WWE World Heavyweight Champion post Royal Rumble, then he will have to appear at least twice on Raw before the Elimination Chamber pay-per-view, in order to fuel his feud with the Champion (either Orton or Cena). But it doesn't seem like happening as Lesnar is set to appear just once between Royal Rumble and Elimination Chamber, i.e. January 27. A day, of course, won't be enough to build a proper feud between Lesnar and the Champion.
Also, Lesnar has said that he will face either Cena or Orton for the WWE World Heavyweight Championship, this emphasis on a single wrestler eliminates the possibility of Lesnar participating in the Elimination Chamber Match for the WWE World Heavyweight Championship because then he will have to face 4 more wrestlers apart of the champion. So, the WWE might book Lesnar's Championship match at WrestleMania XXX, which will be like a repetition of The Rock's case from last year. But, Lesnar can also get his Championship match the night after Royal Rumble in a surprising way, and if WWE is able to pull off something like this then they'll use Batista's remaining appearances to the fullest.
Other possibilities apart of the Championship match
People were/are hoping for a Lesnar-Undertaker/Lesnar-Batista match at WrestleMania XXX, and this can happen if either Batista or Undertaker cause Lesnar the WWE World Heavyweight Championship, which would result in a feud between the two and later a great match at WrestleMania. But, in the end all of this depends upon the WWE Creative, that how they use Brock's remaining appearances and how they book the returning Batista and Undertaker. All we want is a great WrestleMania XXX.