Before Cody Rhodes married Brandi Rhodes in real life, The American Nightmare almost found himself at the center of a WWE romance storyline.
In 2013, former WWE writer Kevin Eck noticed multiple tweets from one-time Divas Champion Kaitlyn about her love of guys with mustaches. Rhodes sported a mustache at the time, giving Eck the idea to pitch an on-screen love angle between the two.
Eck wrote in a 2017 article for PressBox that the storyline would also have involved Rhodes' then-tag team partner Damien Sandow:
"I figured we could take the storyline in several different directions. The obvious route would be for a jealous Sandow to turn on Rhodes. Eventually, Sandow would get together with a rival of Kaitlyn's, leading to a series of mixed tag matches. Another way to go would be for Kaitlyn to turn heel and hook up with Sandow, saying Sandow's impressive beard put Rhodes' mustache to shame." (H/T The Sportster)
The idea was pitched in early 2013 when Rhodes and Sandow were among the most prominent tag teams in WWE. Kaitlyn held the Divas Championship at the time.
---
Why the Cody Rhodes and Kaitlyn romance never took off
The Bella Twins returned to WWE shortly before WrestleMania 29. Nikki and Brie were almost immediately aligned with Cody Rhodes and Damien Sandow, causing the romance storyline to abruptly end.
Kevin Eck recalled how the early stages of the story featured on television before WWE Executive Chairman Vince McMahon nixed the idea:
"My initial pitch of Kaitlyn being attracted to Rhodes actually did make it onto TV, but I could tell McMahon wasn't all that interested in it. When Brie and Nikki Bella returned to WWE, the storyline was abruptly dropped after a couple weeks because McMahon decided to align The Bella Twins with Rhodes and Sandow."
Eck said he once asked for an update on the storyline. McMahon allegedly felt that Rhodes' character would not have been interested in Kaitlyn if he already had The Bellas by his side.
Do you think a storyline between Cody Rhodes and Kaitlyn would have worked? Let us know in the comments section below.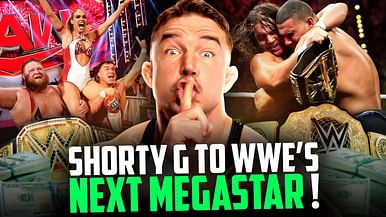 Why Chad Gable could be the next WWE mega star