Savio Vega got a huge pop out of the San Juan crowd at WWE Backlash 2023. The 58-year-old Puerto Rican appeared during a backstage segment with Bad Bunny and Rey Mysterio at the ongoing Premium Live Event.
Savio Vega's WWE Backlash appearance marked his first appearance for a WWE event in decades. Fans who grew up watching the Attitude Era might remember Savio as one of the original members of The Nation of Domination.
Savio first showed up in WWE at the company's first-ever In Your House pay-per-view event. Vega showed up in the audience wearing street clothes. He made the save for Razor Ramon from a vicious assault at the hands of Jeff Jarrett and The Roadie, who later became Road Dogg.
Savio also feuded with Stone Cold Steve Austin before the Texas Rattlesnake's legendary rivalry against Bret "The Hitman" Hart came to fruition. He was eliminated by Austin at the 1997 Royal Rumble pay-per-view event.
Savio Vega's WWE Backlash appearance was the company's way of hyping up Damian Priest versus Bad Bunny's San Juan Street Fight. It remains to be seen if the former WWE star will interfere in the actual match later on during the show.
Savio Vega makes surprise appearance at WWE Backlash
The cameras showed Bad Bunny in his locker room WWE Backlash. Rey Mysterio showed up to talk to San Benito about his upcoming match up against Damian Priest of Judgment Day.
Savio showed out of nowhere and the San Juan crowd popped big time. Vega is no less than an icon in Puero Rico and Triple H did the right thing by having him appear at WWE Backlash tonight. Savio handed a kendo stick to Bad Bunny and gave him some advice for his Street Fight at WWE Backlash.
It remains to be seen if Savio Vega's WWE Backlash appearance will be a one-off.
Are you enjoying WWE Backlash so far? Let us know in the comments!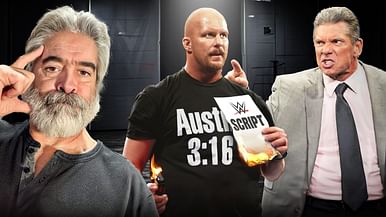 How Stone Cold was born in 2 minutes
Edited by Ashvinkumar Patil