Let's get one thing right off the bat: Batista is a WWE legend and a future Hall Of Famer. He's had two runs with the company, one that was tremendously successful and the other which saw him receive major fan backlash.
Batista's first run with the company started in 2002, and he would later go on to join The Evolution stable in early 2003. This was the first big push that he received, even before becoming tag team champion with the legendary Ric Flair.
Even though Randy Orton was seemingly hand-picked to be the breakout babyface of Evolution, it was Batista who would eventually get hot and become the real breakout babyface when he feuded with Triple H in 2005 heading into WrestleMania 21.
Batista's victory over Triple H was his coronation (the same night that John Cena was coronated) and he would end up staying on RAW for a few more months before moving to SmackDown and becoming the face of the brand.
For the next five years, Batista would have an incredible main event run which would see him become a 6-time world champion and a multi-time tag team champion. His first run came to an end soon after WrestleMania 26 when he concluded his feud with John Cena. By 2010 Batista was a heel and a very highly praised heel at that.
On the night after Over The Limit, Batista was broken, beaten and bruised after losing an "I Quit" match to John Cena the prior night. On that night, Batista would proclaim "I Quit" again, but this time for real.
There were many questions as to why Batista left the company in 2010, but The Animal explained in great detail what happened.
---
Batista's 2010 departure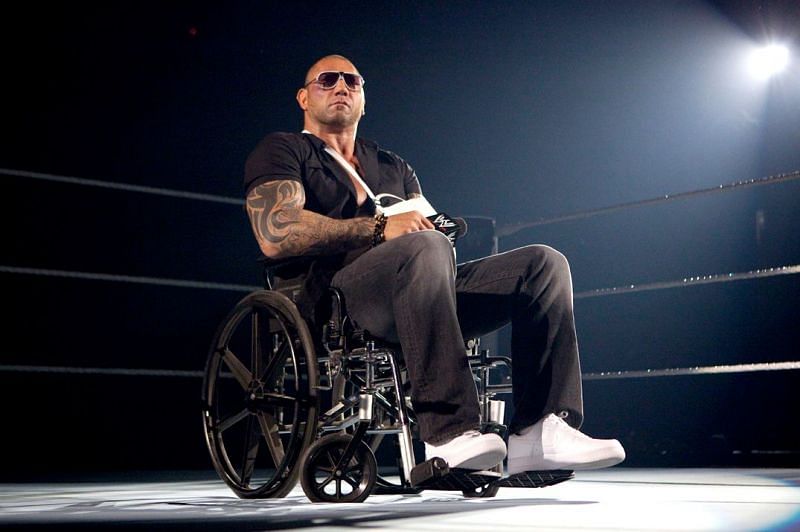 Batista in an interview with MLW Radio Writer's Room revealed that it was him being denied the opportunity to do movies by WWE that drove him away from the company. He stated that his frustration came when he saw that WWE started doing movies and commercials, John Cena was the one always being picked for the role and earning a lot of money from it while he wasn't.
He stated that he wasn't content with it, especially because Cena was main eventing one set of house shows while Batista was main eventing the other. He asked straight up if there were any opportunities for him to do films, and they told him that there wasn't.
It was then that Batista told them that he should be afforded to go outside WWE and audition. Their reported response was "You're our property. Get dressed for the house show and get to work".
This was seemingly Batista's breaking point and this happened in 2009 since Batista said that he gave a year's notice for his departure.
Batista revealed in the same interview that when he was in WWE during his first run, he still was completely committed to wrestling and that's what he wanted to do. He said that he wasn't interested in showing off 25 wristbands and a new t-shirt every week that was being shoved down fans throats( a clear dig at John Cena). He said that he was content with just entertaining the fans, regardless of whether he was a face or a heel.
Furthermore, "The Animal" described that his departure from WWE gave him a lot of perspective on his place in the company. On the night when he was leaving, there were very few people who said goodbye to him or thanked him. He said that it took him by surprise when not many people bothered to bid him farewell or told him to stay in touch. He said that it was even sadder because he left with a broken back (which he suffered at the end of hisIQuit match against John Cena the prior night at Over The Limit).
---
Batista's 2014 return and departure
Towards the end of December 2013, it was announced that Batista would be making his return to WWE on the January 20th edition of RAW.
He came back as a babyface and things went awry fast. He was declared an entrant to the 2014 Royal Rumble which was six days after. While he was well received during his entrance, fans turned sour when they realised that fan favourite Daniel Bryan was not entering the Rumble. In case you're not aware of it, WWE fans were expecting Daniel Bryan to win the Rumble that year.
After Batista eliminated Roman Reigns to win the Royal Rumble, he was heavily booed. He took that personally as a slap in the face and ended up taunting the crowd with "Yes!" chants and also flipped a member of the audience off.
He continued to be poorly received throughout his run and WWE did eventually turn him heel and give the fans what they wanted: Daniel Bryan in the WrestleMania XXX main event. Daniel Bryan was coronated at WrestleMania and after that Batista re-joined Evolution in a storyline against The Shield.
After putting The Shield over in two consecutive PPVs, Batista made his second departure from WWE.
Batista was very critical of the fans response to him. He stated that he had nothing against Daniel Bryan. However, fans getting involved and trying to be the centre of attention was what seemingly made him angry.
His departure from WWE was more due to creative differences this time around. He's stated before that he's not a big fan of WWE's PG direction. He stated that he shared a different creative vision that Vince McMahon had.
For one, Batista wanted to be a heel and could see that fans weren't ready to accept him. He also felt he was pushed too hard too fast. Batista revealed that he stayed a month longer than intended because he was unsatisfied with how his return run went.
In another interview with MLW Radio, Batista pitched to the office to return at SummerSlam 2014 because Guardians Of The Galaxy would release just weeks before SummerSlam.
The idea that Batista had in mind was cross-promotional exposure between WWE and Guardians Of The Galaxy. However, Triple H and Stephanie McMahon apparently laughed it off, assuming that Guardians would not be a hit. Quite a big error in judgement on their end, in retrospect.
I said, 'Wouldn't it be great if I was back and I was also in the No. 1 movie in the world?' And they kind of had a snicker and [they said] '… We don't know if the movie's going to be that good.' … It was a very uncomfortable moment where I think they were just kind of doubting me and laughing in my face"
Batista admitted that he was still sour about how things were the last time and said that if he were to ever return to WWE, it would be on his terms and that he would have to know well in advance what he's getting into and would also hold them accountable for it.
He also said on Chris Jericho's podcast Talk Is Jericho that he prefers doing Live Events over television. He also said that his only interest in a return feud would be a WrestleMania program against Triple H, but WWE always tells him that it's not the direction thathey're going in. Perhaps it's because Triple H has shifted his focus towards facing younger talent and putting them over as well.
Despite all of this, in WWE the only thing certain is uncertainty. I do believe that Batista will return someday and have a proper retirement match and a farewell deserving of someone of his calibre and then an inevitable Hall Of Fame induction.
---
Send us news tips at [email protected]