WWE Divas Championship match added to Survivor Series
2.92K //
14 Nov 2012, 16:30 IST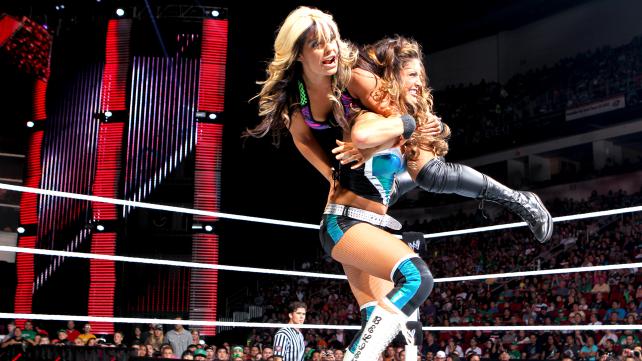 As we get closer and closer to the 26th installment (again, not 26th annual. There's a difference) of WWE Survivor Series, sometimes referred to as the "Fall Classic", WWE are beginning to fill the rest of the card out. While the obvious focal points of the show are the triple threat match for the WWE title and Team Foley facing what is now known as Team Ziggler in a traditional 5-on-5 elimination match, there will still be a plenty of room in the undercard for some fair to good matches. In addition to the WWE title match, the Divas Championship will also be on the line, as current reigning champion Eve Torres will defend her title against "The Hybrid Diva", Kaitlyn.
This past Monday night on RAW, a #1 contenders match for the WWE Divas Championship was announced, as the former champion Layla would be taking on the up-and-comer in Kaitlyn. The end of the match saw Kaitlyn hitting an inverted DDT-her current finisher-on Layla and getting the 3-count, moving onto a title match with Eve for Survivor Series.
This is actually a match that, despite seeming to be thrown together, has been building for a while. Kaitlyn was originally supposed to be facing Layla for the championship at WWE's Night of Champions pay-per-view back in September, but was removed from the match when a masked assailant attacked her. In reality, Kaitlyn had a torn tendon in her ankle, and was "taken out" of the match by the assailant in order to spend some time off in rehabilitation, as she had not been medically cleared to wrestle. Eve ended up taking her place in the match and won the title in the process. Since then, a storyline has been building on Kaitlyn and several others trying to track down the assailant while receiving very few clues as to her identity.
There has been talk of Kaitlyn getting a run with the title for the better part of six months now, and in all honesty, had she not been injured, Kaitlyn would have likely won it back at NoC, based on early reports. Instead, she will now get her long-awaited title match this coming Sunday. Not only is this retribution for the sake of storyline purposes, but this will, in fact, be Kaitlyn's very-first championship match since debuting with the company back in 2010 on NXT. Kaitlyn has improved dramatically over the last 2 years as far as her in-ring work goes, and this match, if given enough time, could help solidify a role for her as one of the company's top Divas.