WWE looks at the 5 greatest rematches in WrestleMania history
5.76K //
Timeless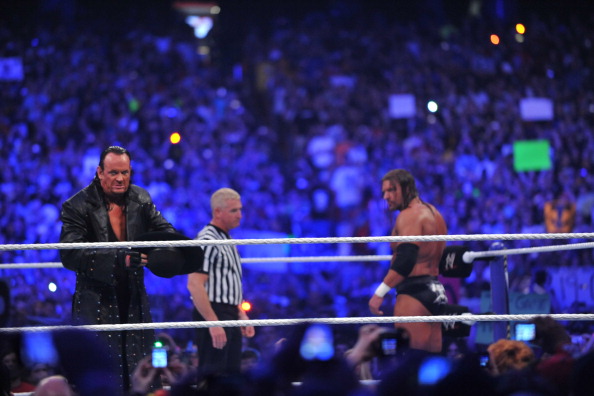 WWE.com had an article which looked back at the five greatest rematches in WrestleMania history.
Here's the list:
#1 The Undertaker vs. Triple H at WrestleMania 28
This match was one of the greatest matches. With Shawn Michaels as the guest referee, it saw the Undertaker extend his streak to 20-0.
#2 The Undertaker vs. Shawn Michaels at WrestleMania 26
The Undertaker rejected Shawn Michaels challenge for a WrestlMania rematch. Shawn Michaels wanted it so bad that he interfered in the Dead Man's match that cost him his World Heavy Weight Championship. Following Michaels' bold actions, The Undertaker accepted The Showstopper's challenge to a WrestleMania rematch, but only if HBK put his career on the line.
#3 "Stone Cold" Steve Austin vs. The Rock at WrestleMania 19
The Rock returned to WWE after a successful Hollywood stint. He had never defeated The Texas Rattlesnake at WrestleMania. Following weeks of mind games — including lyrically victimizing Austin in the first-ever "Rock Concert" — The Great One would have his opportunity for WrestleMania retribution on March 30, 2003, at Seattle's Safeco Field. Although no title was on the line this time around, the stakes could not have been higher.
#4 Edge & Christian vs. The Hardy Boyz vs. The Dudley Boyz at WrestleMania 17
Triangle Ladder Match at WrestleMania 2000. Bubba Ray & D-Von Dudley's World Tag Team Championship was on the line for this 6-man match. Although it was Edge & Christian who would ultimately capture the titles that night, all six competitors were lauded for their bravery following what collectively became known as one of the most awe-inspiring matches of all time
#5 Bret Hart vs. Yokozuna at WrestleMania 10
The mighty Yokozuna won the 1993 Royal Rumble match and wanted a match with Bret Hart at WrestleMania 9. The Hit Man and the 500-pound Yokozuna went head to head. with a little help form Mr. Fuji, the mighty Japanese juggernaut won the match and became the WWE champion. Hart returned a year later and fought Yokozuna to win back what was rightfully his.