What's the story?
In an interview with ESPN, former UFC Heavyweight Champion Josh Barnett opened up on a myriad of topics.
Barnett explained why Ronda Rousey could be a great pro-wrestler/sports-entertainer in the WWE. Besides, Barnett also spoke about the art of story-telling in professional wrestling as well as his first match with NJPW.
In case you didn't know…
Josh Barnett is widely regarded as one of the greatest catch-wrestlers to have ever competed in the sport of MMA.
Barnett is a former UFC Heavyweight Champion and holds wins over the likes of fellow MMA legends such as Frank Mir, Andrei Arlovski, Sergei Kharitonov, Mark Hunt, and Semmy Schilt to name a few. Barnett tested positive for banned substances in a test carried out by USADA—with the news being revealed in late 2016—following which he parted ways with the UFC.
The heart of the matter
Josh Barnett who serves as part of the commentary team in NJPW—having also competed as a pro-wrestler for NJPW in the early-to-mid 2000s—opened up on Ronda Rousey in the WWE—
"If she's passionate about it, and serious, her judo background gives her a great starting point. She already knows how to fall, how to throw other people, and move and throw. She's already an incredible athlete. If she loves wrestling, really wants to be a student of it and make a go of it, I wouldn't be surprised in the least that she could be a great wrestler."
Additionally, Barnett insinuated that simply focusing on high spots and in-ring wrestling manoeuvres isn't enough to hold the fans' attention in pro-wrestling, as the sport depends greatly on the art of in-ring story-telling. Barnett added that to learn how to narrate that story in the ring is difficult.
Furthermore, Barnett spoke about his first match in NJPW, walking out to the ring in front of 40,000 people; adding that although it didn't cause him anxiety or anything, the whole pro-wrestling feel was a unique kind of rush altogether.
What's next?
With a lengthy suspension likely to be handed down to Josh Barnett in USA, owing to his history of failed steroid tests in addition to his 2016 drug test failure per USADA, the Warmaster is likely to compete for RIZIN MMA in Japan.
Barnett presently serves as a color commentator for NJPW's weekly programming on AXS TV.
Author's take
Josh Barnett is one of the most intelligent individuals to have ever competed in the sport of MMA.
Barnett is spot-on in his analysis of Ronda Rousey potentially turning into a great pro-wrestler in the days to come. Like he mentioned, pro-wrestling also entails successful story-telling and a good storyline for Ronda Rousey will definitely help WWE's cause.
---
Send us news tips at [email protected]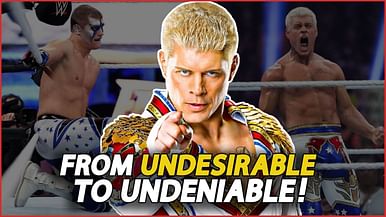 How Cody Rhodes returned to WWE and change pro wrestling forever!