What's the story?
He's arguably the biggest draw in Mixed Martial Arts. He recently proved that he could foray into the world of boxing too and set the box office on fire in two different worlds.
Unfortunately, MMA legend and former WWE superstar Ken Shamrock does not believe that Conor McGregor will do well in WWE. He believes that McGregor's size will work against him.
In case you didn't know...
If there is anyone who is the embodiment of sports entertainment, in the world of Mixed Martial Arts, it is Conor McGregor. His promos are legendary, and the way he gets people invested in a match bears a lot of resemblance to the ways of professional wrestling.
Stephanie McMahon has gone on record to say that Conor McGregor would be the perfect fit for WWE. When I interviewed Sheamus last year, he said that McGregor would be an ideal fit for the Cruiserweight Division of WWE, referring to his size.
The heart of the matter
UFC legend Ken Shamrock told BloodyElbow.com that Conor McGregor would have a very hard time transitioning to WWE due to his size disadvantage:
Just because he's a lighter weight, he would have to have a whole lot of different types of moves in order for it to make sense for him to get in there and be able to wrestle the bigger guys.
He also believed that Shamrock would have trouble grasping the psychology of sports entertainment, coming from the world of real sports:
Could you imagine somebody trying to go from a sporting event into an entertainment event, and have to deal with all the psychology: putting matches together, learning how not to rip somebody's arm off, learning how not to really punch somebody, setting up matches, making it make sense, cutting a promo...
However, Ken Shamrock said that one should not rule McGregor out. If he did make it to WWE, Shamrock believed he should be protected.
What's next?
It is impossible to predict whether McGregor will come to WWE eventually or not. All said and done, he will continue to be a force to be reckoned with, in the UFC. One that breaks box office records with every successive bout in the octagon.
Author's take
McGregor coming to WWE would definitely get a lot of eyeballs to the product. I do not necessarily agree with Shamrock, as McGregor could be paired with a smaller superstar such as Finn Balor, in a program. I'm sure both Irishmen could have a good showing.
---
Send us news tips at [email protected]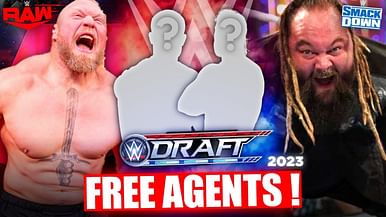 Brock Lesnar and 10 WWE stasr who are FREE AGENTS