While former NXT Champion Pamela Rose Martinez, better known to the WWE Universe as Bayley, wasn't in action during this edition of Raw, except for a Fallout video after the women's main event with Sasha Banks; she had her own reason to celebrate.
While it hasn't been officially announced yet, insiders have confirmed that Bayley got engaged to her long-term boyfriend- Aaron Solow. As of right now, no wedding date has been announced.
Bayley and Solow have been a couple, through thick and thin, for many years now. They first met on the independent scene as far back as 2010. A professional wrestler himself, Solow has wrestled for a variety of independent promotions over the years and still continues to do so as a freelancer.
As a member of the tag team Flying Solow, Aaron is a former tag team champion for the indie promotion ACW, otherwise known as Anarchy Championship Wrestling (with Jason Cade). Despite his accomplishments, he's obviously not as renowned as his better half. He also wrestles under the gimmick- Stuart Cumberland.
Bayley's announcement follows that of her long-time friend, and former opponent, Sasha Banks, who got married to WWE's costume designer Kid Mikaze, also known as Sarath Ton, earlier in 2016. While the wedding had no effect on Banks' schedule, we wonder if Bayley will be forced to take time off closer to the wedding day.
Especially considering she's expected to be a part of the Raw Women's Championship picture, going forward very soon.
While Bayley is one of NXT's hottest stars, she is not an entirely homegrown talent. She was a big name on the independent circuit, before coming to WWE in 2013. She had been a fan of Big Time Wrestling, an indie promotion from the time she was 11. She began wrestling for this promotion, under the name Davina Rose.
It was during this indie run that she first met Solow, and the two of them hit it off!
We at Team Sportskeeda are very proud of the huggable one and wish her and her husband-to-be, a very happy married life indeed. May you have many blissful years together!
---
For latest WWE News, live coverage and rumours visit our Sportskeeda WWE section. Also if you are attending a WWE Live event or have a news tip for us drop us an email at fightclub (at) sportskeeda (dot) com.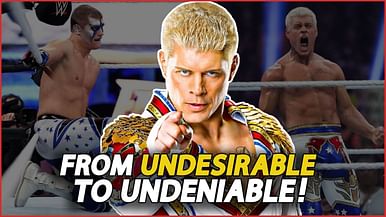 How Cody Rhodes returned to WWE and change pro wrestling forever!