WWE News: Booker T on possible in-ring return, was ready to enter the Royal Rumble
6.73K //
05 Feb 2018, 01:13 IST
What's the story?
On the latest edition of his Heated Conversations podcast, a caller phoned in to ask Booker T on whether he will return to in-ring action in 2018.
While he said wrestling is a "young man's game", the former RAW commentator said he is always prepared and was ready for the call from WWE to compete in the Royal Rumble - but it never came.
In case you didn't know...
Most of the WWE Universe will be familiar with Booker T in his recent role as a colour commentator on WWE Raw, recently being replaced by Jonathan Coachman.
Booker had only taken on the role as a temporary replacement for David Otunga back in April 2016 and has now returned to his role as pre-show panellist and ambassador for WWE.
One of the reasons Booker is such a good addition to commentary and pre-show roles is his vast experience as a wrestler.
The Hall of Famer is perhaps best known as King of the Ring winner and a five-time WCW World Heavyweight Champion, but he's held a plethora of straps in his time and is actually a Grand Slam Champion and a Triple Crown Champion.
It's been a while since Booker has appeared in-ring. His last appearance was actually for Tommy Dreamer's House of Hardcore promotion where he replaced the man himself in an intergender tag team match in the summer of 2016.
In WWE, Booker T's last official match was at WrestleMania XXVIII in a tag team match, shortly before having a stint as SmackDown General Manager.
The heart of the matter
On Heated Discussions, Booker was asked whether he'd return to the ring in 2018, and he was not shy at all about his answer.
The former Harlem Heat member said, "Never say never," but also said, "Preparation is the only luck that we're ever going to have," and that he's in the gym at least four days a week, he keeps himself in good shape and would not rule out a return to the ring.
Booker added that he was awaiting a call from WWE to enter the Royal Rumble Match last month and would be open to returning.
I was waiting for my invitation, it never came. I'm one of those guys, like a utility guy, an all-purpose guy.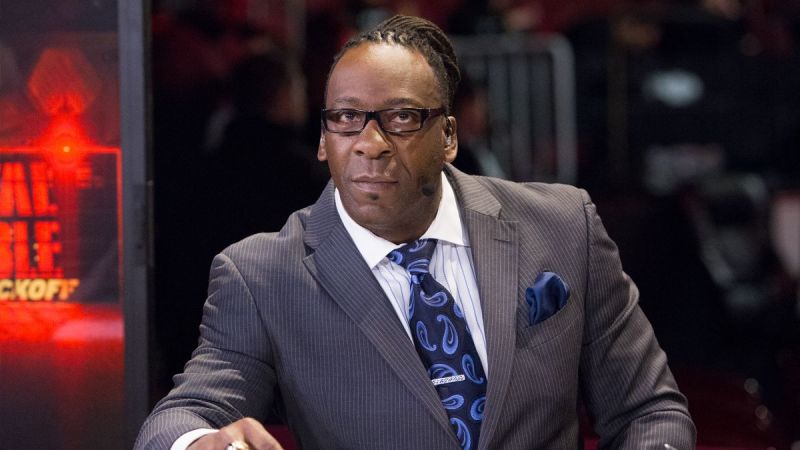 Booker added that he's ready to go if WWE were to ask, but also commented that he won't go lobbying for a return.
If the WWE needs Booker T to go in and show these young guys how it's supposed to be done, I will be waiting in the wings and ready to go at a moment's notice.
What's next?
Well, we didn't see Booker this week on Raw but it has been noted that, in his role as ambassador, we may see him appear from time to time on the red brand.
While no official announcement has come, we can expect to see Booker T on the pre-show at Elimination Chamber on February 25th if we don't see him before that.
Author's take
Booker is in great shape! While he's no young man at 52, there's no doubt Booker could still go. I'd love to see him as, at the very least, a surprise entrant at the Royal Rumble one year. The pop he'd get, especially with his incredible energy and hugely popular theme tune, it would be fantastic!
---
Send us news tips at fightclub@sportskeeda.com