WWE News: Hall of Famer said the nWo almost killed the business
4.41K //
15 Feb 2018, 21:56 IST
What's the story?
On the Sam Roberts Wrestling Podcast, Booker T opened up about his history in WCW and spoke about how he believed the nWo almost killed the wrestling industry.
In case you didn't know...
The New World Order were one of the biggest stories in WCW history at a time when WCW was actually beating WWE (then WWF) in the rating war.
The nWo were actually referred to as a completely separate entity from WCW who had effectively taken over the company. The nWo were introduced via broadcast-style interruptions with a voice proclaiming, "The following announcement has been paid for by the New World Order."
The nWO consisted of three former WWE talents in Hulk Hogan, Scott Hall, and Kevin Nash, and they would effectively be the top dogs in WCW in a movement that, effectively, would outgrow WCW. The faction's most memorable feud was with Sting - something WWE would later call back to during Sting's WrestleMania match with Triple H.
The nWo took on several transformations, with many people being part of it - including Booker T's brother Stevie Ray in WCW, and Booker T himself in WWE.
The heart of the matter
Booker T spoke to Sam Roberts about "heat" and being a heel - and said the nWo were a heel faction who did not want heat, which made the crowd turn on babyfaces.
The Hall of Famer referenced one man as being the polar opposite of this, Sergeant Slaughter turning on America.
It was the biggest thing on professional wrestling as far as heat goes, as far as a man needing security wherever he would walk.
The five-time WCW World Heavyweight Champion said he wanted to make fans despise him, saying his first match in Canada was against Kevin Nash and said Nash went out and gave the nWo sign, and everyone erupted. Booker said he sat in the back thinking, "He's the bad guy." They played Booker's music and he got booed.
That's when I knew the nWo, the bad guys, was killing the business because they didn't want the heat, they wanted the adulation. That nWo, singlehandedly, almost ruined the business in terms of good guys, bad guys, cowboys and indians.
Booker T also spoke about how Hulk Hogan joining was a bad idea as he was still the same Hulkster that everyone loved, so it just made people like him and the nWo even more.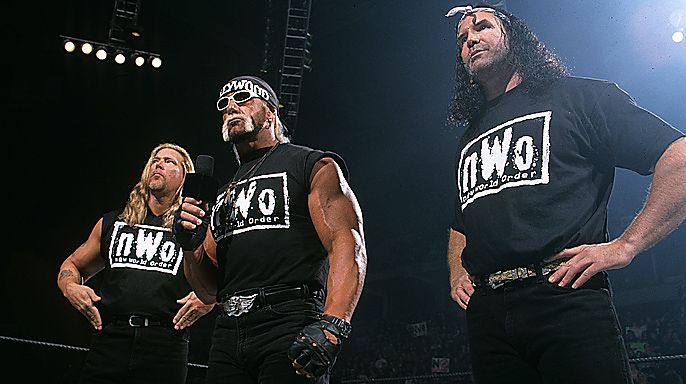 Sam Roberts then went on to say he believed WCW's downfall could have been the nWo in an ironic twist, as they had always booked the nWo as being "cool" with WCW looking quite the opposite, so when the nWo disbanded, people would jump to WWE.
What's next?
Well, sadly here, probably nothing - unless we somehow hear a rebuttal from Scott Hall, Kevin Nash or Hulk Hogan on the matter.
Either way, it's a very interesting viewpoint.
Author's take
It's a very interesting point from Booker T - particularly in the current climate of wrestling where John Cena and Roman Reigns are presented predominantly as babyfaces, but booed - and people live Kevin Owens and Miz are loved for their in-ring and promo work despite being heels. Even with Braun Strowman, he started off as a heel but WWE seem to have softly turned his face due to crowd reaction. I had never thought of it in terms of the nWo, but Booker T makes a very valid point.