Anderson (right) alongside Luke Gallows on Monday Night Raw.
What's the story?
WWE RAW superstar Karl Anderson and his wife have become proud parents for the 4th time, after welcoming their son Cash into the world.
In case you didn't know
Anderson joined the WWE in April 2016, teaming with his Bullet Club partner Luke Gallows, and attacking the Usos on an episode of Monday Night RAW.
Since joining, the duo has teamed with fellow Bullet Club alumni AJ Styles and Finn Bálor. They also captured the WWE RAW Tag Team Championships at the 2017 Royal Rumble, defeating the Bar (Sheamus and Cesaro).
They held the titles until WrestleMania 33, where they lost them to the returning Hardyz in a Fatal 4-Way Ladder match.
The heart of the matter
Anderson and his wife welcomed their 4th son Cash, today at 11:02 am. Cash weighed in at 9 pounds, 4 ounces and 21 inches long.
Anderson has deliberately kept his private life secret, though it is known that Cash is his 4th son, all of whom he has had with his wife, who Anderson has constantly referred to as his "Hot Asian Wife."
In a tweet, Anderson sent his love and respect to all the WWE fans who have supported him, as well as his friends and family across the world.
What's next?
Anderson will presumably take some time off to be with his wife, kids and newborn Cash. He has shown himself to be a hard working person inside and outside the ring, and he seems to be a wonderful father.
We would like to send our very best wishes to Karl, his wife and their children on this incredible day, and incredible to start to the latest chapter in their lives.
We would also like to send our best wishes to the newest 'Good Brother' Cash. Welcome to the world!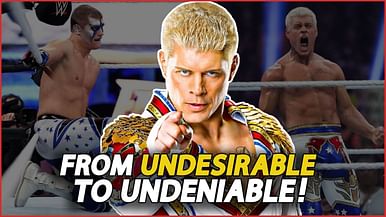 How Cody Rhodes returned to WWE and change pro wrestling forever!