WWE News: Kurt Angle compares Braun Strowman to The Undertaker
13.85K //
30 Nov 2017, 21:45 IST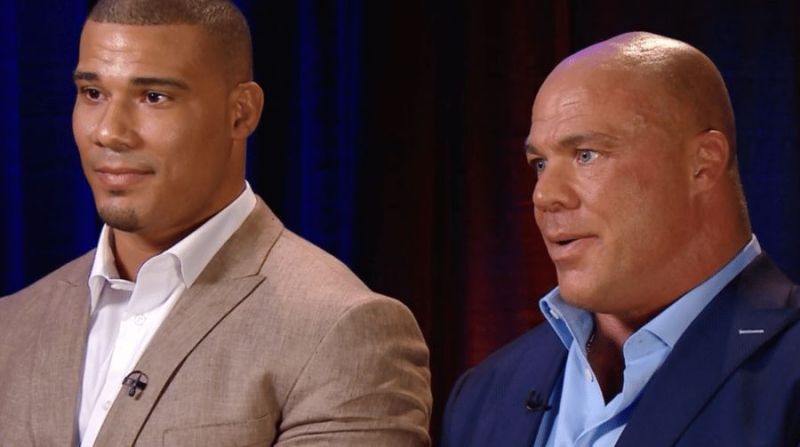 What's the story?
RAW General Manager Kurt Angle was interviewed by The Wrestling Estate about a myriad of topics. During the interview, he expressed his admiration for the Monster Among Men, Braun Strowman.
He thought that in a few years, Strowman would be in the same bracket of big men as The Undertaker was. Angle also admitted that Vince McMahon likes Braun Strowman.
In case you didn't know...
Braun Strowman started off as a member of the Wyatt Family, but ever since the first brand split, has become a major player. In very little time, he's stepped into the main event picture and moves deceptively quick for a big man with no independent wrestling experience.
It is clear that WWE has big plans for the big man. Kurt Angle's faith and belief in Braun Strowman showcases just how good he really is.
The heart of the matter
Angle praised Strowman, during the course of the interview with The Wrestling Estate:
Braun is one of a kind. I actually told Braun this last week. If he stays healthy, he can be up there eventually, in years' time, with Undertaker as one of the best big men in the business. 
He went on to say what makes Strowman a special kind of cat:
You have to remember that this guy wasn't an athlete-athlete. He was a Strongman competitor. It's hard to believe that he's as athletic and has the psychology like I've never seen a big man have since Undertaker. I give him a lot of credit for being able to pick up the business so quickly.
And that's not all. Angle added that The Monster Among Men could have a good match with just about anyone.
What's next?
Both Kurt Angle and Braun Strowman are integral parts of the RAW landscape, as of right now. Both have a bone of contention with Triple H. The Game better watch out for The Monster Among Men as well as the RAW General Manager.
Author's take
Braun Strowman is a special kind of man for sure. He's achieved a lot in a very short amount of time, and the sky is the limit for the superstar. If he lasts over twenty-five years in the business, I don't see why he cannot be the next Undertaker.
---
Send us news tips at fightclub@sportskeeda.com