WWE News: Nia Jax opens up on Ronda Rousey signing with WWE
724 //
21 Feb 2018, 15:43 IST
What's the story?
Well, we're just days away from Elimination Chamber where Nia Jax will face off against the undefeated Asuka, and Ronda Rousey will officially sign her WWE contract to confirm her role as a full-time RAW Superstar. The Irresistible Force has opened up about Rousey signing with WWE, what she can bring and what she needs to do.
In case you didn't know…
Ronda Rousey shocked the world when she appeared at the end of the WWE Royal Rumble pay-per-view to interrupt Asuka choosing which Champion she would face at WrestleMania.
While we haven't seen the former UFC Bantamweight Champion since, she has been confirmed for the Elimination Chamber event where she will sign her exclusive WWE RAW contract.
The heart of the matter
Nia Jax recently spoke with Busted Open Radio about Ronda Rousey's impending WWE debut. The Irresistible Force spoke of her excitement and praised Ronda Rousey for her work in UFC.
I'm very excited. Ronda Rousey was a huge part in the women's revolution around the world and part of the WWE and now she's coming to the WWE. It's going to be absolutely amazing. She's so talented and has so many things to bring to us.
While rumours have been going around that Ronda Rousey has some "backstage heat" with the women in the locker room, Jax went on to say the arrival of "Rowdy" can only be a good thing for everyone.
It's literally going to expand the women's division and people don't realize how much she's going to bring to us and how far it's going to take us. I personally am very excited for her to come. She's willing to put in the hard work.
Nia, who will go toe-to-toe with the undefeated Asuka on Sunday, also praised Rousey for making the leap to WWE - and welcomed a new challenge for Rousey and for herself.
I have nothing but positive things to say for anyone who wants to come to the WWE because it is not an easy place to get into and not an easy place to get through, so if you feel like you can make it here and get through, I say, "Welcome. Let's do it."
Nia Jax did have some advice for Ronda Rousey, though, stating there's one very important rule she needs to obey in order to fit in when she steps in the locker room.
Respect is number in this business. You definitely have to walk into the door with a lot of respect: a lot of eye contact, a lot of handshakes, introducing yourself.
We are a very tight-knit family at WWE. We are very protective of our family. When an outsider comes in, you want to make sure the outsider is worthy to step into the family.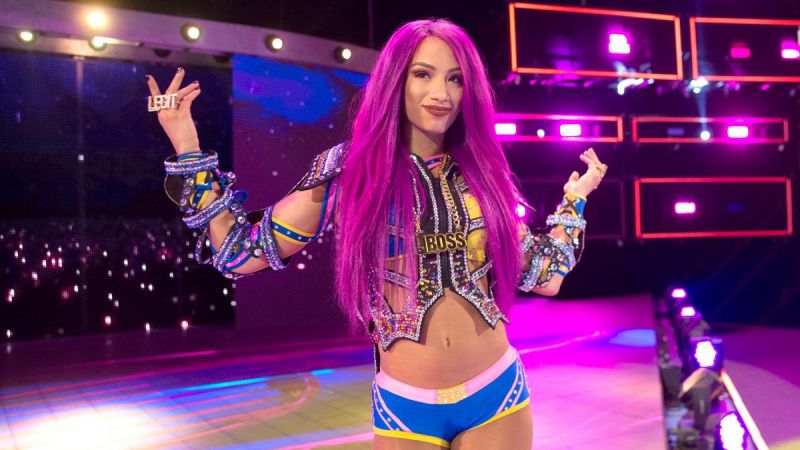 While speaking about previous comments on Busted Open Radio from a former Women's Champion, Nia Jax also took her chance to clear the air.
When Sasha Banks says she had nothing nice to say, it's not necessarily that she wants to go out and be mean, but rather making sure that this outsider is worthy to step into her family.
You can see the full video below.
What's next?
Nia Jax battles the undefeated Asuka for a chance to be added to Asuka's Championship Match at WrestleMania. Asuka is scheduled to face Alexa Bliss but Bliss must first retain her Championship in the first ever Women's Elimination Chamber Match.
Ronda Rousey will sign her official WWE contract at the pay-per-view.
Author's take
Well, it's pretty cool to hear Nia speak about Rousey in such high regard. While it's cool of WWE Superstars to try keeping some kayfabe alive and make it seem like there's real heat, I always really enjoy hearing praise between them too.
With that being said, I can't wait to see Nia and Rousey face off in the future - and I'm also really excited to see the role both will play on Sunday!