WWE News: Triple H praises Stephanie McMahon for her WrestleMania match
1.26K //
11 May 2018, 21:31 IST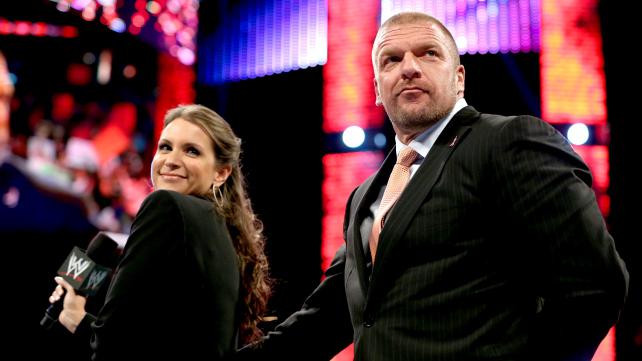 What's the story?
WWE Superstar and executive VP of Talent, Live Events and Creative Triple H appeared on a podcast for Sky Sports recently and among other things, showered praise on wife Stephanie McMahon for all the roles she juggles in her personal life as well as her professional career.
In case you didn't know…
Stephanie McMahon is the on-screen Commissioner for Monday Night Raw and also the Chief Brand Officer for WWE. She is often seen playing a villainous authority figure on-screen, but her appearances have been very limited since WrestleMania.
In addition to her backstage duties, Stephanie was involved in in-ring action at WrestleMania 34, when she took on the team of Kurt Angle and Ronda Rousey alongside Triple H in a mixed tag team match. The match was highly touted as the best match of the night.
The heart of the matter
When he appeared on the podcast, The Game explained how impressed he was with Stephanie at WrestleMania 34. (Thanks to Wrestling Inc. for the transcript).
"I couldn't have been more proud of everybody in that match. Like I had stated, Kurt Angle hadn't been in a WWE ring in over a decade at a WrestleMania. Ronda Rousey, I can't imagine having my first match ever in front of 75,000+ fans, oh my God. Stephanie... people take for granted what she does. Not because she is my wife, but I am in awe of her. Not only is she the Chief Brand Officer of WWE where she is traveling extensively representing WWE and doing all these amazing stuff. Not only that, but she is also a mom. The best mom to our three daughters, which is her priority in life. On top of that, she has to be ready to face Ronda Rousey, who is the baddest woman on the planet. You know that it is going to be physically rough regardless of how you look at it."
The former World Heavyweight Champion then explained how he was sure that Rousey would exceed expectations in her debut match at 'Mania and that she did indeed surprise a lot of people with her amazing performance.
"They all did an amazing job. I think for me, honestly, I did my little part, but I kind of sat back in awe. We prepared everybody, but they executed it. I just sat back that day and watching it all come down thinking, my God, I am just blown away, especially with Ronda Rousey. I kept telling a lot of people she was going to surprise a lot of folks. She definitely surprised a lot of folks."
What's next?
Stephanie is likely to continue in her role as the on-screen Commissioner, with sporadic appearances. She will probably not be wrestling a match again in the near future.
Author's take
With her father being the Chairman of the company, Stephanie could have chosen to take it easy, but instead, she is one of the hardest workers backstage for WWE and managed all her responsibilities very well indeed.