Shane McMahon injury update: Commissioner of SmackDown Live is resting with his family
9.29K //
11 Oct 2017, 16:46 IST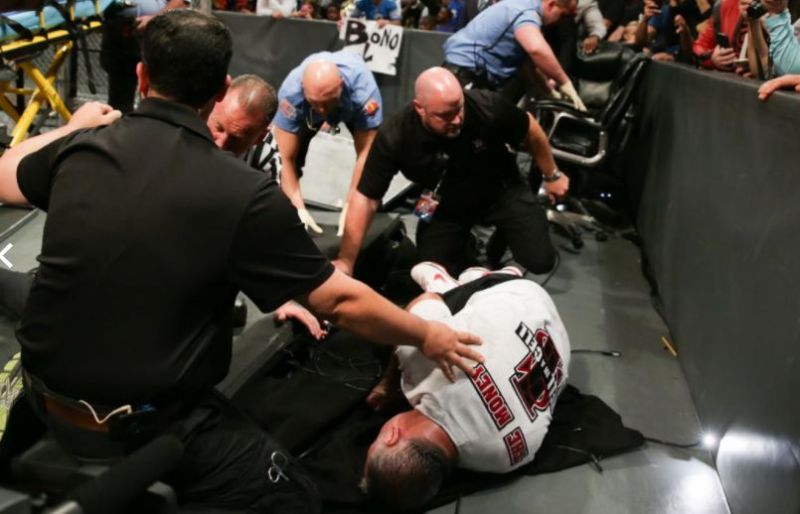 What's the story?
Shane McMahon took a lot of punishment at Hell In A Cell, but it turns out through all of the abuse, missed spots, and high praise the SmackDown Live Commissioner will live to fight another day. WWE has an official update about his health status.
In case you didn't know...
After the Hell In A Cell even had concluded some people were worried about Shane McMahon. After all, a 47-year-old man isn't supposed to go through that kind of punishment.
Bryan Alvarez noted on Wrestling Observer Live that he didn't know for sure if McMahon suffered a concussion but some people were worried about it. Alvarez said he heard McMahon also suffered some kind of damage while performing his Coast To Coast move. Shane McMahon was being worked on by medical staff for quite a while following the event.
The heart of the matter
As worried as people might have been about Shane McMahon's health status, it turns out that he's doing much better safe at home while he recovers.
WWE's official announcement didn't verify any kind of actual injury from McMahon but instead only said he is resting at home with his family.
What's next?
Shane McMahon worried a lot of people by taking another one of those awful risks when he dived off the Hell In A Cell. The human body isn't designed to take that kind of punishment.
McMahon is sure to wrestle again because it will probably take a lot more than a broken up body after a Hell In A Cell match to keep him out of the ring. After all, he's had a broken up body for the same reason in the past.
Author's take
Shane McMahon might be very entertaining but he doesn't really need to wrestle anymore. His kids are used to seeing him in the ring at this point so that really begs the question of why Shane McMahon keeps going through this a couple times a year.
Maybe we'll get to the point soon enough where Shane McMahon won't feel the need to put his body at this kind of risk anymore. But if his father, Vince McMahon, is any kind of example while he's taking stiff headbutts from Kevin Owens at 72 years of age, then there's probably a very good chance Shane McMahon is far from finished in the ring.
---
Send us news tips at fightclub@sportskeeda.com