WWE: Resurrection of Cody Rhodes and Damien Sandow
3.58K //
31 Jul 2013, 19:26 IST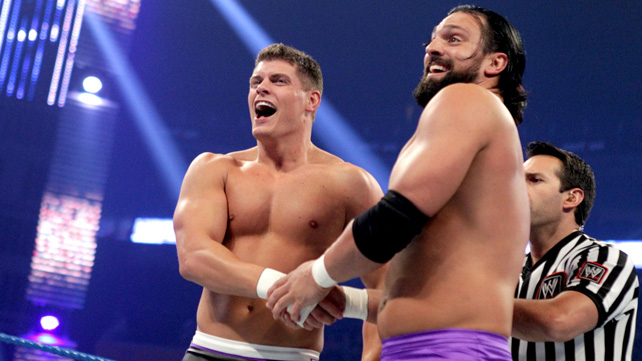 For months, Team Rhodes Scholars were used as glorified jobbers, often being fed to the likes of Sheamus and Randy Orton. I was one of the more vocal supporters of Cody Rhodes and Damien Sandow. Rhodes has been in the WWE for years, and after being one of the best Intercontinental champions in recent memory, it was time for Cody to be elevated into the main event scene. But for someone inexplicable reason, he was relegated to the mid card level.
Damien Sandow, on the other hand, was stuck in the WWE developmental regions for a decade, and although he was highly regarded by the WWE management, and even the likes of Triple H, he was never brought onto the main roster, and once he was given the gimmick of 'The intellectual saviour', people expected Sandow to be pushed.
Damien Sandow has been one of the most entertaining superstars in the WWE. Can anyone honestly tell me his mockery of people, including singing the theme of Randy Orton in a sophisticated way didn't bring a chuckle to them? Damien Sandow's gimmick can be thought of The Rock's, in a much more intellectually stimulating way.
With Damien Sandow and Cody Rhodes joining forces as Team Rhodes Scholars, they soon became one of the most interesting and entertaining aspects of an otherwise monotonous world of WWE. Although they teased dissolving the team, they stuck together till tensions started to rise between the two.
I'm a huge fan of Cody Rhodes and Damien Sandow. They are different than what we're used to seeing in the WWE. Rhodes is charismatic, different from the monotonous big-guy look, while Sandow's character is something that hasn't been tried before. It is a testament to Sandow's talent that he made something work that Hunter Hearst Helmsley, better known to us as Triple H couldn't.
It was only a matter of time before Rhodes and Sandow got their due in the WWE. After losing to various top talents, their time came when both of them were announced as participants in the Money in the Bank ladder match for the World Heavyweight championship.
While everyone expected Dean Ambrose or Wade Barrett to steal the spotlight, it was Cody Rhodes who came out with flying colours in the bout. It was arguably his best performance in the WWE, and after putting on the performance of the night, he was fingertips away from guaranteeing himself a shot at the World Heavyweight championship, when his partner and best friend Damien Sandow ruined his plans.
Sandow betrayed Cody and grabbed the briefcase, thus earning himself a shot at the world title anytime he chose in the future. As a puzzled Rhodes looked on, the Internet Wrestling community rejoiced, knowing that two of their favourite stars were finally going to get their share of glory in the WWE.
Since then, Rhodes and Sandow have been involved in an interesting angle, as Rhodes looks to seek retribution for Sandow backstabbing him. Cody Rhodes stole Sandow's Money in the Bank briefcase, and on the last episode of SmackDown!, threw it into the Gulf of Mexico.
With their feud now intensifying, this can arguably revive the careers of both these individuals. They will probably face each other at SummerSlam, and if WWE manages to book them properly, this can be the breakout feud for both the performers, something along the lines of what Steve Austin and The Rock had.
I am by no means comparing Rock and Austin to Sandow and Rhodes, as Austin and Rock were already established, but if all the cards are played right, Rhodes and Sandow can be the next world champions. With SummerSlam right around the corner, we have to wait and see how WWE goes ahead with this program, but rest assured, both these superstars' future lies in the success of this feud. They can either become main eventers, or go back to being glorified jobbers in the WWE.