From the WWE Rumor Mill: WWE has signed Deonna Purrazzo
1.90K //
31 May 2018, 18:13 IST
What's the story?
She's one of the hottest acts on the independent circle right now and has even dipped her toes in the water of WWE, but it seems like Deonna Purrazzo is finally on her way back to WWE!
Follow Sportskeeda for the latest WWE news, rumors and all other wrestling news.
Purrazzo appeared several times on NXT television and was even involved in a storyline on SmackDown, as well as having a match on the blue brand - and Square Circle Sirens have confirmed that the Women of Honor star has signed with WWE.
In case you didn't know...
Deonna Purrazzo is one of women's wrestling's biggest success stories, having only started training in 2012 yet already wrestling all over the world - and in promotions such as WWE, Impact Wrestling and Women of Honor.
The 23-year-old was one of the innovators of Women of Honor upon its return on her debut against Mandy Leon in July 2015 where both women pretty much set the bar for what the promotion would become. It could be claimed that Purrazzo was one of the talents who has since spearheaded the promotion and even made her first appearance on an ROH TV episode in December 2016 where she defeated Candice LeRae.
The New Jersey-born talent signed to a Ring of Honor contract in January of this year and has tagged with Tenille Dashwood (formerly Emma) and participated in the tournament for the Women of Honor Championship.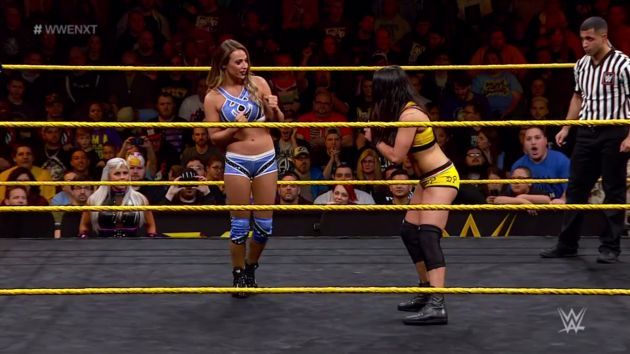 Purrazzo has also wrestled several times for Impact Wrestling since 2014, but she also worked for WWE several times during the same time frame - bouncing from some of the world's largest promotions since the start of her career, making her name wherever she goes.
The five-foot-two wrestler appeared several times as one of Adam Rose's Rosebuds (who didn't?) but has been wrestling on NXT television since 2015 - competing against stars such as Nia Jax, Bayley and Asuka.
In 2016, Purrazzo was set to face SmackDown Women's Champion Alexa Bliss on the blue brand, but Bliss attacked her before the bell so the match never started. It's also rumoured that Purrazzo played La Luchadora on SmackDown before it was decided and then confirmed that Mickie James was under the mask.
Purrazzo has also wrestled for World Wonder Ring Stardom in Japan - debuting in a tag team match with Christi Jaynes and Shayna Baszler in a winning effort against trio defeating Kagetsu, Kris Wolf and Viper. She since won another match with the same artners before defeating both HZK and Io Shirai, and Toni Storm and Zoe Lucas in a Three Way Tag Team Match while pairing with current NXT Women's Champion Baszler.
Purrazzo also unsuccessfully challenged Toni Storm for the SWA World Championship.
The heart of the matter
According to Square Circle Sirens, WWE has signed Deonna Purrazzo to a full-time deal.
SCS reports:
We can confirm that WWE has signed 23-year-old Deonna Purrazzo to a developmental contract with the company. She will be reporting to the WWE Performance Center in Orlando, Florida in a few weeks.
Deonna Purrazzo had been confirmed to wrestle during the All In event, as well as on Chris Jericho's Rock'n'Wrestling Rager At Sea later this year. It should be noted that, during Talk Is Jericho yesterday, while performing the talent read for who will appear on the Cruise of Jericho, Y2J seemingly started to say Deonna's name before immediately stopping himself.
There has been no official announcement whether Purrazzo will still be appearing at either event.
What's next?
It's rumoured that Purrazzo will be joined by several other talents when she joins up with WWE at the Performance Center on July 16th.
Having already wrestled in NXT, we can most likely expect a quick transition back onto WWE television for Deonna Purrazzo.
What do you think about WWE signing Deonna Purrazzo?
Where will she fit in? Let us know in the comments below.
---
Send us news tips at fightclub@sportskeeda.com