WWE SmackDown on FOX: 3 Reasons why Tyson Fury vs Braun Strowman should not have been booked
9.88K //
12 Oct 2019, 12:15 IST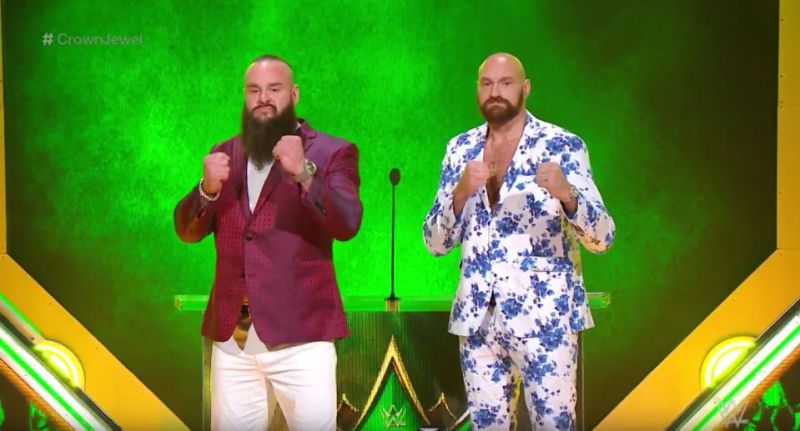 Disclaimer: The views expressed in the article are those of the writer and not necessarily those of Sportskeeda.
The first part of the WWE Draft took place on SmackDown last night. It was also an episode where some matches were confirmed for the Crown Jewel PPV in Saudi Arabia.
Brock Lesnar is set to take on Cain Velasquez in Saudi Arabia with the WWE Championship on the line, while the match between Braun Strowman and Tyson Fury has also been confirmed for the same event.
It seems as though WWE are pushing the boundaries even further than they ever have. Two former UFC Champions are fighting for the WWE Championship, while an undefeated boxer is set to lock horns with the Monster Among Men.
These two matches just give more momentum to the money-making juggernaut that WWE is. However, while the match between Lesnar and Velasquez does have some promise (although it really didn't need the WWE Championship to be on the line), Tyson Fury vs Braun Strowman is an encounter that should not have happened – and here are 3 reasons why…
---
#3 Fury doesn't look ready
Tyson Fury is a force of nature. His record speaks for itself, as he has fought 30 times and has 29 wins and one draw. He is yet to be beaten in a boxing ring and given that he is just 31 years of age and is in the peak physical shape of his life, it is unlikely that anyone will put 'one' beside the loss column.
However, pro-wrestling is a whole different ball game. Last week on RAW, Tyson Fury and Strowman had a go at each other on a physical level. During the segment, it showed that Fury wasn't ready, as he looked stiff with his spots (look at the video above where he doesn't seem to be aware of what to do next after putting Cesaro down).
If the same thing happens at Crown Jewel, we could be assured that we are going to have a disastrous match which won't be appreciated by the fans. Or worse…