Top 10 tallest basketball players in the world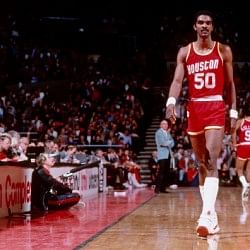 Height has always been an advantage for a basketball player. Some of the tallest basketball players take part in NBA, which is the most popular and competitive professional basketball league in the world.
Here's a list of the top 10 tallest basketball players in the NBA. Some have achieved worldwide fame, while others are hardly known to anybody. Some had long fruitful careers while others hardly played. In an era dominated by the LeBrons, Kobe Bryants and Kevin Durants (none of whom are very tall), let's take a look at the careers, styles of play and other factors which made some of these players greats of the game while others mere extras in the fabric of the game.
10. Ralph Sampson – 7′ 4″ (2.24 m)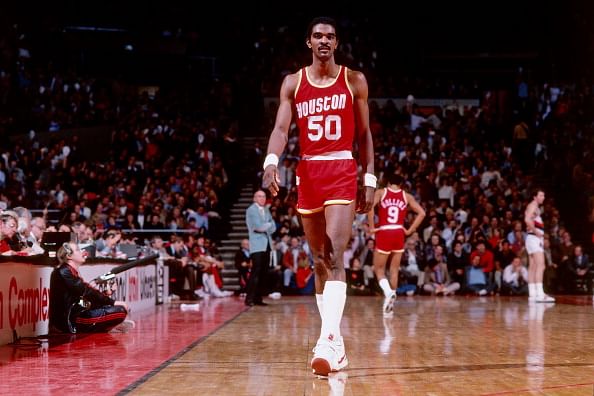 At #10 in the list of top 10 tallest basketball players in NBA is Ralph Sampson.
Ralph Lee Sampson Jr. was born on July 7, 1960. He's the tallest player to be inducted into the Hall of Fame. He was a three-time college player of the year. He was the No. 1 draft pick in 1983, drafted by Houston Rockets. There were a lot of expectations riding on him after his stellar first season at the Rockets, in which he bagged the Rookie of the year award and also got selected to the All-Star Roster.
The media even started comparing him to Wilt Chamberlain (like anybody could attain Chamberlain's legendary status!) and Bill Russell. He seemed well-set to achieve his true potential when the Rockets added Hakeem Olajuwon to their roster. The two were nicknamed the "twin towers" as they proceeded to wreck havoc on their opponents.
After the 1986 season, which they lost to the Boston Celtics in the NBA finals, Sampson started picking up injuries. His relationship with Rockets coach Bill Fitch worsened and he was traded to the Golden State Warriors. However, his back and knee injuries took a turn for the worse. He played 4 less than satisfactory seasons with the team before being shipped off to Sacramento. Sampson was never able to regain his former glory and his career ended on a low note, and people were left to think about what might have been.
Stats: 456 Games PLayed, 15.4 PPG, 8.8 RPG, 1.6 BPG. He also played for 3 All-Star Games.
9. Rik Smits – 7'4″ (2.24m)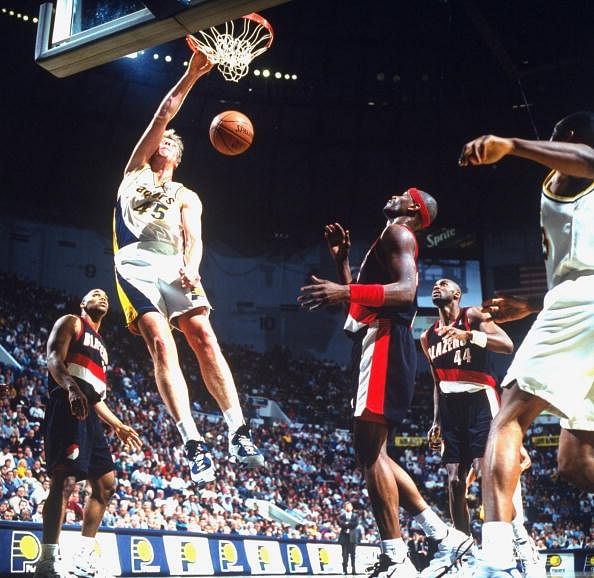 At #9 in Sportskeeda's list of top 10 tallest basketball players in NBA is Rik Smits.
Rik Smits was born on August 23, 1966. He was nicknamed "The Dunkin' Dutchman". He was the No.2 Pick in the 1988 draft, being drafted by the Indiana Pacers. He played there for 12 seasons from 1988-2000. By a fortunate turn of events, Smits who was the back-up for Steve Stipanovich, ended up as their starting Centre after Stipanovich was forced to end his career with a terrible knee injury.
This was more than enough for Smits who made it to the All-Rookie first team of 1983-84. Smits followed through his successful first year with double digit point totals throughout every season of his career. Smits' consistent stats and leadership on the court earned him huge popularity among the fans and he was named to the 1998 NBA All-Star team.
Smits developed nerve damage from wearing tight shoes as a teenager. His foot problems worsened year by year and he finally retired after Indiana lost to the Los Angeles Lakers in the NBA Finals 4 games to 2 of the 1999-2000 season. Rik Smits was selected to the Pacers' 40th Anniversary Team, which was chosen by the fans. He ended up with the fourth most votes, trailing only behind Reggie Miller, Mel Daniels and Jermaine O'Neal.
Stats: 867 Games Played, 14.8 PPG, 6.1 RPG and 1.3 BPG. He played in 1 All Star Game.
8th – Mark Eaton – 7'4″ (2.24m)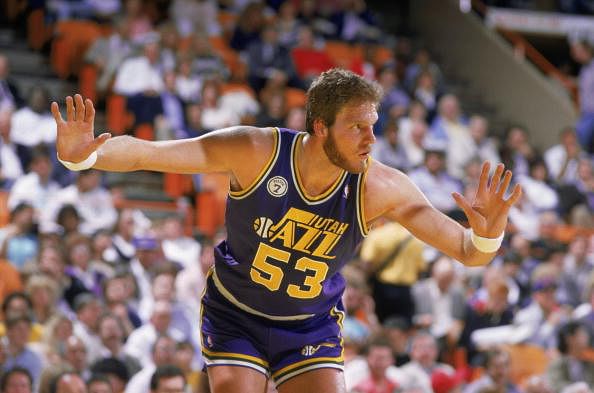 At #8 in the list of top 10 tallest basketball players in NBA is Mark Eaton.
Mark Eaton was born on January 24, 1957. His career as an NBA professional was a highely unlikely one. He was working as an automobile mechanic before an assistant coach from Cypress Junior College recognized his talent. He went on to play for them before transferring to UCLA. He was the 72nd pick in the 4th round of the 1982 draft. He was picked up the Utah Jazz where he played there for 11 seasons from 1982 to 1993. Utah coach Frank Layden would later explain his choice by quoting the old axiom, "you can't teach height".
Eaton was never a great offensive player. His height enabled him to become one of the greatest defensive centres of NBA history. He won two NBA Defensive Player of the Year awards in 1985 and 1989. Eaton was also a vicious shot blocker. He currently holds the record for BPG (blocks per game) with 3.5 BPG. Eaton's strong defense was perhaps their greatest factor in the Utah Jazz's first-ever playoff appearance in 1983. Eaton blocked 351 shots during this season. One interesting fact is that one of the shots he failed to block was Kareem Abdul Jabbar's hook, which gave him his 31,421st point (the all-time record for maximum number of points EVER).
Karl Malone, John Stockton and Mark Eaton together formed one of the deadliest teams in NBA history. Their mixed styles of play made Utah Jazz a great team. Like every player of his height, knee and foot problems occurred and slowed down his career. He finally retired in the 1992-93 season. To honor his contributions to the team, the Utah Jazz retired Eaton's number 53 during the 1995-96 season.
Stats: 875 Games Played, 6.1 PPG, 7.9 RPG and 3.5 BPG. He took part in one All-Star game.