Height has always been an advantage for a basketball player. Some of the tallest basketball players take part in the NBA, which is the most popular and competitive professional basketball league in the world.But while some super-tall players have achieved worldwide fame, others are hardly known to anybody. Some have had long fruitful careers, while others hardly played.In an era dominated by LeBron, Kobe Bryant and Kevin Durant (none of whom are very tall), let's take a look at the careers, styles of play and other factors which made some of these players true greats while others mere extras in the fabric of the game.Here's a list of the top 10 tallest basketball players in the NBA.
#10 Rik Smits 7'4" (2.24m)
Rik Smits
At #10 in the list of the top 10 tallest basketball players in NBA is Rik Smits.
Rik Smits was born on August 23, 1966. He was nicknamed "The Dunkin' Dutchman", and he was the No. 2 pick in the 1988 draft, being selected by the Indiana Pacers. Smits played there for 12 seasons, from 1988 to 2000.
By a fortunate turn of events Smits, who was the back-up for Steve Stipanovich, ended up as their starting centre after Stipanovich was forced to end his career with a terrible knee injury. This was more than enough for Smits, who made it to the All-Rookie first team of 1983-84.
He followed up his successful first year with double digit point totals throughout every season of his career. Smits' consistent stats and leadership on the court earned him huge popularity among the fans, and he was named to the 1998 NBA All-Star team.
Smits developed nerve damage from wearing tight shoes as a teenager. His foot problems worsened year by year and he finally retired after Indiana lost to the Los Angeles Lakers in the 1999-2000 NBA Finals 4 games to 2.
Smits was selected to the Pacers' 40th Anniversary Team, which was chosen by the fans. He ended up with the fourth most votes, trailing only behind Reggie Miller, Mel Daniels and Jermaine O'Neal.
Stats: 867 Games Played, 14.8 PPG, 6.1 RPG and 1.3 BPG. He played in 1 All Star Game.
#9 Mark Eaton 7'4" (2.24m)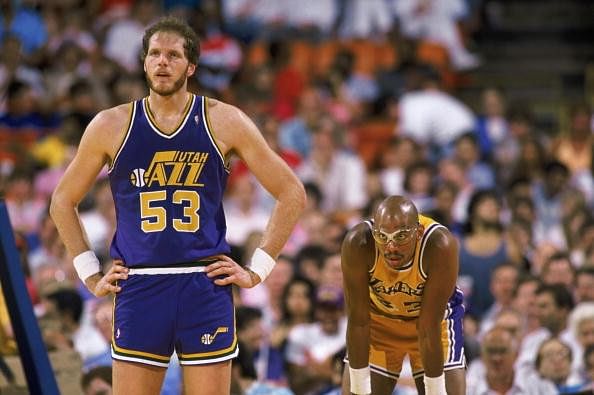 Mark Eaton (L)
At #9 in the list of the top 10 tallest basketball players in NBA is Mark Eaton.
Eaton was born on January 24, 1957, and his career as an NBA professional was a highely unlikely one. He was working as an automobile mechanic when an assistant coach from Cypress Junior College recognized his talent.
Eaton went on to play for them before transferring to UCLA. He was the 72nd pick in the fourth round of the 1982 draft, finding favour with the Utah Jazz. Eaton played there for 11 seasons – from 1982 to 1993. Utah coach Frank Layden would later explain his choice by quoting the old axiom, "you can't teach height".
Eaton was never a great offensive player. But his height enabled him to become one of the greatest defensive centres in NBA history. He won two NBA Defensive Player of the Year awards in 1985 and 1989.
Eaton was also a vicious shot blocker. He currently holds the record for BPG (blocks per game) with 3.5 BPG.
Eaton's strong defense was perhaps the greatest factor in the Utah Jazz's first-ever playoff appearance in 1983. Eaton blocked 351 shots during this season. An interesting fact about that is that one of the shots he failed to block was Kareem Abdul Jabbar's hook, which gave him his 31,421st point (the all-time record for maximum number of points EVER).
Karl Malone, John Stockton and Mark Eaton together formed one of the deadliest teams in NBA history. Their mixed styles of play made Utah Jazz a great team.
Like every player of his height, knee and foot problems slowed down Eaton's career. He finally retired in the 1992-93 season.
To honour his contributions to the team, the Utah Jazz retired Eaton's number 53 during the 1995-96 season.
Stats: 875 Games Played, 6.1 PPG, 7.9 RPG and 3.5 BPG. He took part in one All-Star game.
#8 Sim Bhullar 7'5" (2.26 m)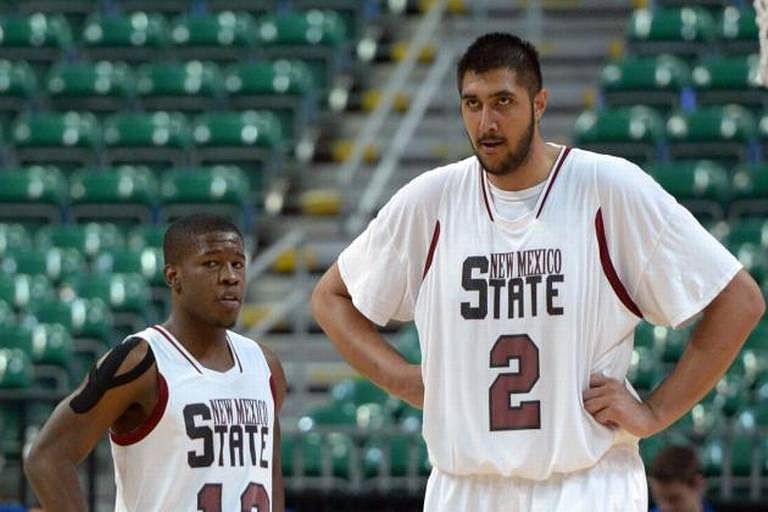 Sim Bhullar, the Giant from India
At #8 in the list of the top 10 tallest basketball players in NBA is Sim Bhullar.
Bhullar was born on 2nd December 1990. His parents are from Punjab and they migrated to Canada before his birth. He became the first basketball player of Indian descent to play in the NBA after he signed a contract with the Sacramento Kings.
Bhullar had a successful career in college basketball with New Mexico State University. He won his conference MVP award twice in 2013 and 2014 and also helped his college reach the NCAA tournament.
Bhullar played for the Sacramento Kings in the NBA summer league. He was rewarded with a contract on 14th August 2014.
Bhullar also has a younger brother, Tanveer, who is 7 feet 3 inches (221 cm) tall and plays college basketball for New Mexico State University.
College basketball stats: Games played: 65, 10.2 PPG, 7.2 RPG, 1.0 APG.
#7 Slavko Vranes 7'5" (2.26 m)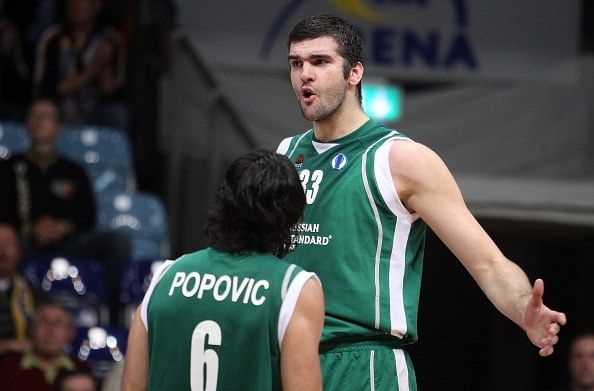 Slavko Vranes
At #7 in the list of the top 10 tallest basketball players in NBA is Slavko Vranes.
Vranes played for a very brief time in the league. In fact, he holds one record which would be extremely difficult to beat: he played for just three minutes (that's right, you read it correctly) for the Portland Trail Blazers before his NBA career ended.
In all fairness to him, however, there was just too many expectations on him due to his height.
Vranes was drafted by the Knicks in the 2003 draft (39th pick, second round), and they later transferred him to the Trail Blazers.
Vranes is currently playing for Sanaye Petroshimi BC in the Iranian Super League.
Stats: 1 Game Played, 3 minutes, 1 missed field goal, 1 personal foul (There were no other stats to mention)
#6 Pavel Podkolzin 7'5" (2.26 m)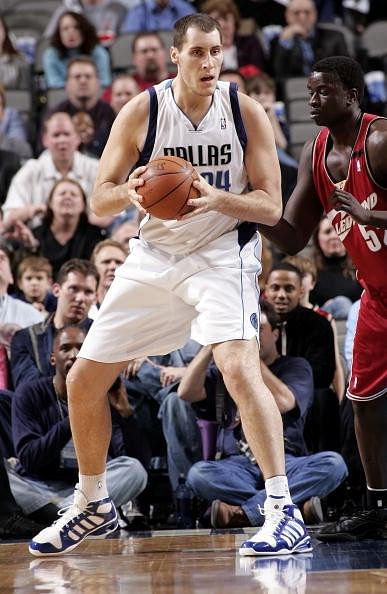 Pavel Podkolzin (L)
At #6 in the list of the top 10 tallest basketball players in NBA is Pavel Podkolzin.
Podkolzin is yet another tall player who caught glimpses of life in the NBA. He was the 21st pick in the first round of 2004, drafted by the Utah Jazz.
Although Podkolzin did not have much of an impact on the game, he proved two deep seated misconceptions false in the NBA: 1. Tall players always play well; and 2. First round picks always become great players.
He was, however, traded to the Dallas Mavericks for another first round pick. He played for six games during two seasons.
#5 Chuck Nevitt 7'5" (2.26 m)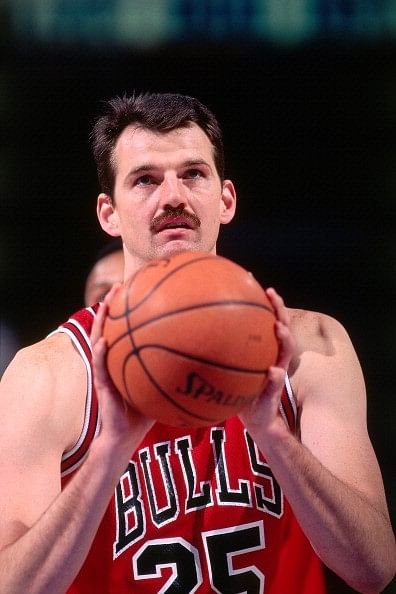 Chuck Nevitt
At #5 in the list of the top 10 tallest basketball players in NBA is Chuck Nevitt.
Nevitt (born June 13, 1959) had a mercurial career. He went in and out of NBA, and he was bounced around the league playing for Lakers, Bulls, Pistons, Rockets and Spurs. He was actually on the 1985 Lakers Championship winning team.
Nevitt's NBA career spanned nine years but just 155 games. The highest number of games he played in a season was 43.
Nevitt is the tallest player ever to win a championship.
Stats: 155 Games Played, 1.6 PPG, 1.5 RPG, NBA Champion (1985)
#4 Yao Ming 7'6" (2.29 m)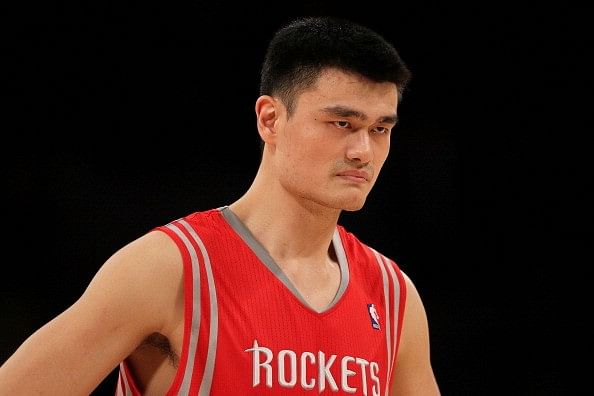 Yao Ming
At #4 in the list of the top 10 tallest basketball players in NBA is Yao Ming
Yao Ming was born on September 12, 1980 in Shanghai, China. He's probably the most talented offensive player on this list.
As expected, Yao was the No. 1 draft pick of the 2002 draft, earning the favour of the Houston Rockets. He has played with the Rockets for 10 seasons from 2002-2011. Many predicted that Yao would not be successful in the NBA, but he proved his doubters wrong.
His first pre-season had one interesting incident. Charles Barkley said he would "Kiss Kenny Smith's ass if he scores more than 19 points in one game in his rookie season". Yao scored 20 points against the Lakers and Charles Barkley kissed the buttock of a donkey bought by Kenny Smith (Kenny Smith's "ass").
Yao's introduction into the top flight triggered a few instances of racism (Shaq' joke, Miami passing out 8,000 fortune cookies). However, Yao took them all in his stride, handling the incidents with good natured humour.
Yao was voted ahead of Shaq as the starter for the 2003 NBA All-Star Game. Such was Yao's popularity that he broke Michael Jordan's previous record of most All-Star votes with 2,558,278 total votes, during the 2005-06 season.
Injuries started affecting him from 2005 onwards. McGrady was brought in the previous year and the two were expected to lead the Rockets' title challenge. However, Yao missed 21 games while McGrady missed 35 during the 2005 season, and the duo played just 31 games together.
Yao's body kept being riddled with injuries and he suffered from knee, foot and ankle injuries. On July 10th, 2011, the inevitable occurred. Yao announced his retirement from NBA citing his ankle and foot injuries as the reason.
Although Yao did have a pretty good impact on the game, his greater impact was off the court. He played a huge role in popularising the game in Asia. For example, on November 9th, 2007, Yao played against fellow Chinese Yi Jianlian and the game was watched by over 200 million Chinese ALONE.
He was also one of the most popular players to have ever played in the game. He is arguably the best basketball player to ever come out of China.
Stats: 486 Games Played, 19.0 PPG, 9.2 RPG and 1.9 BPG. He has played in 8 All-Star games. Yao also won many CBA (Chinese Basketball association) awards during his initial years there.
#3 Shawn Bradley 7'6" (2.29 m)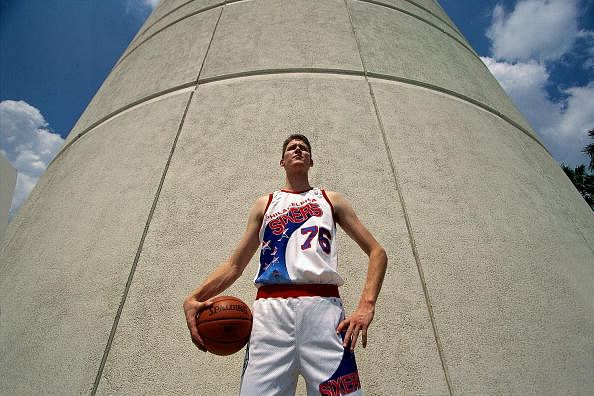 Shawn Bradley
At #3 in the list of the top 10 tallest basketball players in NBA is Shawn Bradley.
Bradley was born on March 22, 1972, and he played in the NBA for 12 seasons – from 1993 to 2005. He was the second overall pick in 1993 and was drafted by the Philadelphia 76ers.
Bradley, like many of the tall players ahead of him, came into the league amidst great interest. He was one of the most successful players in Utah's high school history. But he had both supporters and critics in equal measure; he was expected to dominate the league with his athleticism, while critics argued that his thin build would probably be to his disadvantage.
Since Bradley was a 7'6″ player playing for the 76ers, he was issued the jersey number of 76. He also played for the New Jersey Nets and Dallas Mavericks.
Bradley was similar to Mark Eaton in a few aspects. Both were never great offensive players. Both were inconsistent in rebounding and scoring. However, both were also excellent shot blockers. One main difference was that Eaton, being bigger, was hardly taken advantage of inside.
Bradley was notorious for picking up fouls early on and thereby getting his playing time limited. And like many others before him, he started picking up injuries soon. He developed back, knee and ankle problems before eventually retiring in 2004-05.
Stats: 832 Games Played, 8.1 PPG, 6.3 RBG and 2.5 BPG.
#2 Manute Bol 7'7" (2.31 m)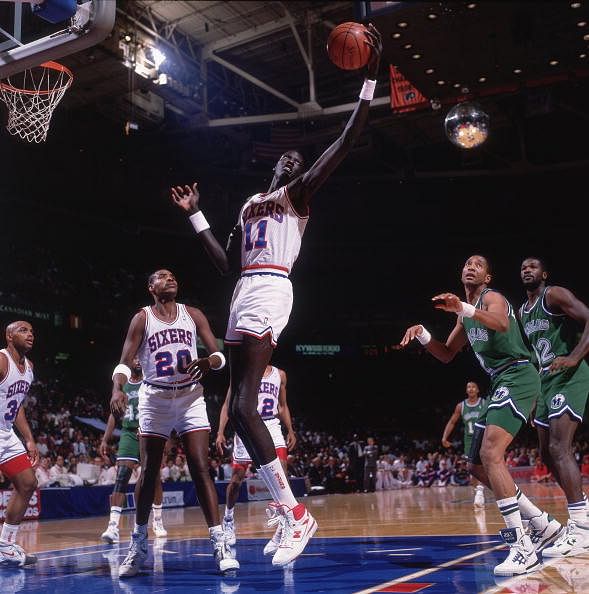 Manute Bol
At #2 in the list of top 10 tallest basketball players in NBA is Manute Bol.
Manute Bol was born on October 16th, 1962 in Sudan. He was drafted as the 31st overall pick in the 1985 second round by the Washington Bullets. He was known to be a very friendly and popular player by his teammates.
Bol played for Washington Bullets, Golden State Warriors, Philadelphia 76ers and Miami Heat. He was a tremendous shot blocker, averaging just under 5 BPG during his rookie year. He owed this ability to his great height and long wingspan (8′ 6″, 2.59 m).
The other aspects of his game however, were considered weak, mainly of his outrageously thin physique. He weighed just 200 pounds (91 kg), and faced a lot of difficulty against the traditionally buff centers in the low post. Interestingly, Bol occasionally used to shoot threes, and make them too.
Typically, Bol developed lot of lower body injuries and his final few years were spent as a mentor to a few tall men of the league, most famous among them being Shawn Bradley and Gheorge Muresan.
Stats: 624 Games Played, 2.6 PPG, 4.2 RPG and 3.34 BPG. He is the only player in NBA history to block more shots than he has made, and is ranked second behind Mark Eaton in Career BPG with 3.34.
#1 Gheorghe Muresan 7'7" (2.31 m)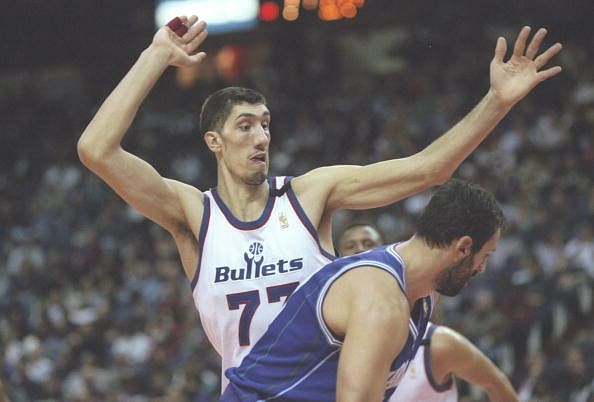 Gheorghe Muresan
At #1 in the list of top 10 tallest basketball players in NBA is Gheorghe Muresan.
Although both Muresan and Bol stand at 7'7″, Muresan is generally regarded to be a little taller than Bol. He was born on February 14, 1971, and owes his height to a pituitary disorder called hyperpituitarism.
Muresan was drafted by the then Washington Bullets as the 30th overall pick (2nd round). He played for 6 seasons in the NBA, flitting in and out of the league. He played for Washington Bullets, New Jersey Nets in the NBA and Pau Orthez (France).
Although he showed a lot of promise, Muresan's body was ravaged by injuries right from his rookie season. He won the NBA Most Improved Player of the year for the 1995-96 season. But his next years weren't as good and he finally retired due to his injuries.
Muresan retired from NBA after the 1999-2000 season and he played for a few seasons in France and the ABA.