CM Punk is a controversial figure in the world of professional wrestling. Although he has not appeared on AEW TV for several months, he remains a topic of much discussion and continues to generate strong opinions from fans.
At All Out 2022, CM Punk faced Jon Moxley for the AEW World Title and won the championship. This marked the former's last appearance in a wrestling capacity since his return from a foot injury over the summer. Before this, Punk had lost the title to Moxley on the August 24th episode of Dynamite.
The Voice of the Voiceless is known for his outspoken nature. However, after making negative remarks about Colt Cabana, Adam Page, and The Elite during the post-All Out media scrum, he was suspended and stripped of the title due to a backstage Brawl Out incident with members of The Elite.
According to Dave Meltzer, Tony Khan has no plans to part ways with the Straight Edge Superstar. Deciding on Punk's future will be challenging for Khan due to recent circumstances.
The former world champion appears to be inactive, as there are no plans to incorporate him into AEW programming. The All Elite Wrestling President has temporarily put Punk on hold, with no intention of using him anytime soon. However, there have also been no discussions about releasing him from the company.
Despite his absence, Punk has been a fan favorite and has significantly affected AEW ratings. Although he faced Jon Moxley at All Out, he was unable to perform due to a torn triceps injury sustained during the match.
---
Wrestling veteran advises Tony Khan to reconcile with CM Punk despite locker room conflict
Wrestling veteran Bill Apter has suggested Tony Khan disregard the locker room's negativity towards CM Punk and find a path for the fans.
While speaking on The Wrestling Time Machine with Teddy Long and Mac Davis, Bill Apter acknowledged that there have been problems in the locker room regarding Punk.
"AEW, I know for a fact people felt very agitated when he was backstage. A lot of people. But there were also a lot of people who liked him being there. AEW fans want CM Punk so you've got to try and work out something to keep him there. It's for the fans, the business is for the fans, not for the guys in the back in the dressing room," Bill Apter said. [21:40-22:11]
You can catch this and all the other episodes of the podcast on Spotify:
CM Punk has recently been working as a commentator for Cage Fury Fighting in MMA but has not yet announced his plans for the future in wrestling.
Do you think CM Punk will return to AEW? Let us know in the comments section below.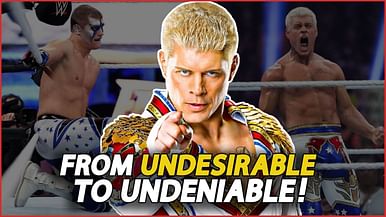 How Cody Rhodes returned to WWE and change pro wrestling forever!