The wrestling world was shocked to discover that multi-time ROH Tag Team Champion Jay Briscoe had passed away on January 17. Meanwhile, WWE seemingly adjusted their latest NXT show to avoid backlash upon hearing the news.
Briscoe passed away following his involvement in a fatal collision with another vehicle that killed the other driver and left Jay's two daughters with serious injuries.
Upon hearing the news of Jay's passing, WWE decided to scrap a planned segment for The New Day on the January 17 edition of NXT. Instead, commentators Vic Joseph and Booker T sent their thoughts and prayers to Jay's family.
So who was responsible for making the important call? Speaking on the latest edition of the Wrestling Observer Radio, Dave Meltzer noted that the person who decided to scrap the planned funeral segment involving New Day was Shawn Michaels.
"This was supposed to be a funeral segment, and they realized literally minutes before this thing started when they found out about Jay Briscoe. They made the call to switch it because they knew it would be in really bad taste which is in fact so different from WWE in similar situations in the past. It was Shawn [Michaels]' call." (H/T WrestleTalk)
There was no word at the time of writing on whether or not the scrapped segment would take place on the January 24 edition of NXT. But judging by the fact that WWE thought it was in poor taste on the day, they may continue to nix it altogether.
---
Jay Briscoe: A Celebration of Life was taped after AEW Dynamite
The AEW roster wasted no time doing their best to pay tribute to Jay Briscoe on the most recent episode of Dynamite. Stars such as Jay Lethal, Bandido, and Bryan Danielson all sported black armbands. Meanwhile, The Young Bucks went a step further and even used some of The Briscoe Brothers' moves in their match against Top Flight.
However, following the most recent episode of Dynamite, AEW President Tony Khan announced that there would be a taping of a special ROH tribute show titled "Jay Briscoe: A Celebration of Life."
There is no official date when the show will be released on the ROH YouTube channel or on the free section of HonorClub. We here at Sportskeeda Wrestling will be eagerly awaiting it to drop so we can also celebrate the life of Jay Briscoe.
What are your best memories of The Briscoe Brothers? Let us know in the comments section down below.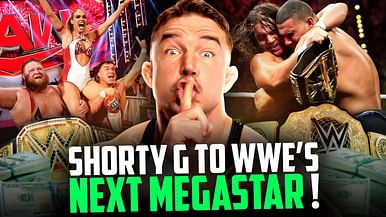 Why Chad Gable could be the next WWE mega star