On this past week's episode of AEW Dynamite, two-thirds of the World Trios Champions, The Young Bucks, wrestled Top Flight. WWE veteran Jim Cornette ripped apart the match's booking.
The Young Bucks and Top Flight kicked off this past Wednesday night in the form of a tag team match. The two teams put on a tough fight, and in the end, the Martin Brothers picked up the win.
During the latest episode of The Jim Cornette Experience podcast, the wrestling veteran shared his honest thoughts on the match. He felt that The Young Bucks were not truly putting over Top Flight as he believes the viewers would forget this match as it was not of any significance.
"Are they even falling for this anymore? The fake put-overs? Where you don't put over somebody that could legitimately be a main event attraction for the company right now, you put over somebody who, you're going to have a good match with and in two weeks nobody's going to remember it 'cause they kinda know what you did," Jim Cornette said. [59:17 - 59:38]
Cornette also shared his thoughts on Top Flight. Considering the fact that both brothers have suffered injuries recently, and their absence, while they are talented, they are not ready to be featured in the main event as of yet.
"They started as a team with the company three years ago. One was injured and then the other was injured… They haven't been focussed on television but neither have they been working regularly for three years, improving… They are not ready to be in the main events." [01:02:09 - 01:02:47]
Jim Cornette compares the Young Bucks loss on AEW Dynamite to 123 Kid defeating the late Razor Ramon
While speaking on the same podcast, Cornette compared the opening match on AEW Dynamite to the 123 Kid, aka Sean Waltman's shock win against the late Razor Ramon. He mentioned that Top Flight defeating The Young Bucks is not the same as that match because the Martin Brothers are not unknown talent, and they've wrestled in several matches prior to this tag team match.
"There's been no concerted effort to move them up the ladder, this is not a shock of an unknown team like 123 Kid was, Sean Waltman, coming in and scoring an upset victory. This is these guys have been around for a while." [01:02:53 - 01:03:09]
Recently, WWE veteran Konnan shared his opinion on The Young Bucks as well and believes they have gotten stale but are a good addition to the AEW locker room.
Do you think Top Flight could hold the AEW World Tag Team titles one day? Let us know in the comments section below.
---
Please credit the Jim Cornette Experience podcast and give a H/T to Sportskeeda when you use any quotes from this article.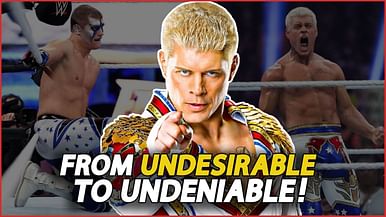 How Cody Rhodes returned to WWE and change pro wrestling forever!
Edited by Jayakrishna Dasappan