While Kurt Angle hasn't made an appearance in AEW so far, he isn't barred from showering praise on some of the company's top stars that he wants to compete with.
Given the opportunity, the Olympic gold medalist said that Kenny Omega and Bryan Danielson are two of the top names in the industry right now who he would want to work with.
Angle revealed that he was made a very generous offer by All Elite President Tony Khan, who was willing to pay him three million U.S.D.s for ten matches in AEW. However, the Hall of Famer turned down the offer and refused to come out of retirement. Nonetheless, Angle has been hinting at a return to the squared circle as of late.
Speaking in an interview with the A2theK Wrestling Show, Angle named Bret Hart as his all-time top dream opponent. However, he did have a couple of other names to mention as well:
"Daniel Bryan was a great one [who I never got to wrestle with]. Gosh, why can't I remember his name right now. He's in AEW, he used to wrestle in Japan a lot. Oh gosh why am I going brain dead. Kenny Omega! Yes. I love that guy. I would love to work with him. He's incredible," said Kurt Angle. [3:28 - 3:48]
Check out the full interview in the video below:
---
Kurt Angle last wrestled in 2019
In 2017 Kurt Angle was inducted into the Hall of Fame and was then appointed as RAW general manager. This led to him being more actively involved in the ongoing storylines at the time.
Being a part-time active Hall of Famer, Angle became a huge attraction for the company and was a major draw. Hence, he was more active inside the squared circle for the remainder of the year.
In March 2019, Angle revealed that he would wrestle in his last match at WrestleMania 35, and his final opponent would be Baron Corbin. With Corbin coming out on top, the Olympic gold medalist capped off his in-ring career at the age of 50.
On the December 9 episode of SmackDown, Angle returned to celebrate his 54th birthday and even brought back the milk truck at the end of the show.
Since then, Kurt Angle has had multiple opportunities to come out of retirement, but he has so far turned down all of them. Only time will tell if the WWE Hall of Famer will ever return to the squared circle.
---
If you use quotes from this article, please add a H/T to Sportskeeda Wrestling and credit The A2theK Wrestling Show.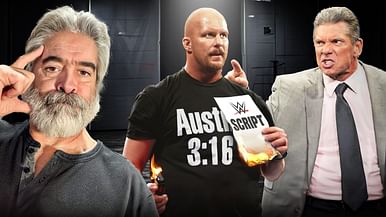 How Stone Cold was born in 2 minutes