Adam Cole had a well-documented history with the late Jay Briscoe and faced the star on many occasions over the years. During the recent ROH Jay Briscoe Tribute show, Cole shared his thoughts on his late friend.
AEW Dynamite, unfortunately, couldn't dedicate the show to Jay Briscoe last week but managed to record a special Ring of Honor show in his memory. Many wrestlers also shared their stories with Jay, but Adam Cole was one of the first to reminisce about the star.
Shortly after a clip of one of his matches against Jay Briscoe, Adam Cole addressed the crowd and shared his thoughts on The Briscoe Brothers in the Squared Circle.
"He was so unbelievable inside and outside the ring. I think about Jay and Mark teaming together – they were two of the most excellent pro wrestlers you could find. A lot of people have had their best pro wrestling matches with Jay Briscoe." (54:43 onward).
Check out the entire Tribute episode below:
Cole continued, recalling how Jay helped him throughout his entire pro wrestling career.
"Jay Briscoe really helped me find myself. But not only did he toughen me up, Jay Briscoe helped me more than any of you could ever realize. I promise you, I wouldn't be standing in this ring today if it wasn't for Jay." (55:31 onward).
Disco Inferno and Konnan recently spoke on Adam Cole's run in AEW and why he was seemingly more popular in NXT than he was before returning to the Jacksonville-based promotion.
---
Missed out on last night's AEW Dynamite? Catch up with the results right here.
---
Adam Cole also revealed that Jay Briscoe helped him gain recognition early on in his ROH tenure
Following his miraculous return, Adam Cole seems to be riding quite a wave of momentum. WWE Hall of Famer Bully Ray even warned AEW not to waste the star's return, since this could lead to an impressive run.
Following Samoa Joe's heartfelt tribute, the 33-year-old star reflected on what Jay Briscoe did for his career.
"Jay did a lot for me – professionally – there was a time in my career where I was learning the ropes and Jay believed in me. I was not supposed to be champion for very long and he said that he didn't think that was a good idea, and we need to make this Adam Cole-guy special." (18:19 onward).
It remains to be seen what the Panama Playboy will achieve next in AEW. Could he finally capture the AEW World Championship? Or will the star instead pick up one of the other titles in the promotion? Fans will simply have to stay tuned.
---
If you use the quotes above, please credit Jay Briscoe Tribute and Celebration of Life and give a H/T to Sportskeeda Wrestling for the transcription.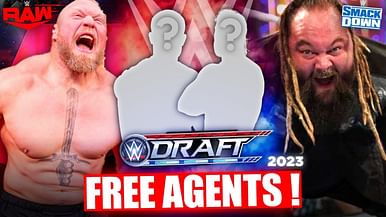 Brock Lesnar and 10 WWE stasr who are FREE AGENTS