Triple H pulled double duty on Monday night when WWE celebrated the 30th anniversary of their flagship programming, titled "RAW is XXX."
The Game appeared in the ring alongside Shawn Michaels, Road Dogg, X-PAC, and Kurt Angle for a memorable DX segment.
He was spotted backstage with former AEW talent William Regal, who recently returned to the company.
The British star parted ways with Tony Khan late last year so that he could work with his son, Charlie Dempsey.
The Gentleman Villain was granted his release on certain assurances. He won't be able to make any on-screen appearances for WWE for the majority of 2023 as part of his conditional release from AEW.
Hence, Regal assumed the role of Vice President of Global Talent Development upon returning to his old stomping grounds this year.
WWE recently uploaded a bunch of behind-the-scenes photos taken at RAW's 30th-anniversary show, which also featured a candid shot of William Regal, Bruce Prichard, and Triple H working backstage.
This is the first time the former Blackpool Combat Club member has been spotted in his new role since returning to the company.
You can check out the photo below:
---
William Regal addressed his status with WWE
William Regal realizes his time as an on-screen figure will be severely curtailed.
While speaking on the Distraction Pieces podcast, the British veteran opened up about not being able to appear on WWE TV for the foreseeable future:
"I'm doing nothing else about anything or wrestling or anything for at least a year and I'm happy with that. I'm quite happy being in the background. I'm quite happy not being in the limelight, and I have been for many years. I had my time," Regal said.
As of now, The Gentleman Villain will continue to contribute behind the scenes for the company until he's allowed to get into the ring again.
---
Do you miss William Regal on your television screens? Sound off in the comments section below.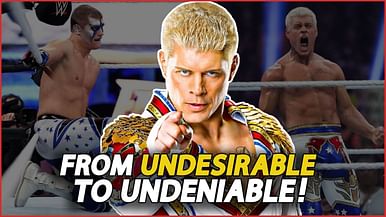 How Cody Rhodes returned to WWE and change pro wrestling forever!
Edited by Sidharta Sikdar