AEW and the wrestling world have recently been mourning the sudden and untimely death of Jay Briscoe. In light of his passing and the fact that The Briscoes never made their way into AEW, the Young Bucks talked about their efforts to get the two into the promotion.
Fans were recently very upset after rumors broke that Warner Bros. Discovery was responsible for the minimal tribute the promotion had in Jay's memory during the recent Dynamite. Reports claimed that the late star's old controversial tweets were the reason why, which led to backlash.
During the recent Wrestling Observer Newsletter, Nick Jackson detailed just how long they've been trying to get The Briscoes into the promotion:
"We always say they're the best tag team in the world that wasn't showcased to a national audience. We wanted to change that. We tried recruiting them from day one to AEW."
Nick continued, claiming Tony Khan bought ROH with the intention of signing The Briscoes to long-term contracts:
"Literally would beg on a weekly basis. Tony tried his hardest and when he bought ROH that was one of the first things he did was sign them to long-term contracts." [H/T": JR Wrestling]
Tragically, both of Jay Briscoe's daughters were involved in the motor vehicle accident that took his life. Thankfully, both are slowly recovering, and an update on their conditions has recently been reported.
---
Missed out on last week's AEW Rampage? Catch up with the results before the show right here.
---
Nick Jackson claims that Jay Briscoe was a changed man, and wishes he got an opportunity in AEW to prove
Jay Briscoe was clearly beloved by the wrestling industry, as hours after his passing, numerous wrestlers poured into social media to express their sadness and disbelief. The star undoubtedly had a massive and far-reaching impact on the wrestling world.
During the same interview, Nick Jackson spoke on the work Jay Briscoe had done before his death to make amends for his past decisions.
"Jay took sensitivity training before signing and everyone I've talked to said how genuine he seemed and he was definitely a changed man. I just wish he was given a better opportunity for forgiveness while he was still here with us. He was such a good human being. The best of hearts," said Jackson. [H/T TJR Wrestling]
While AEW could not dedicate Dynamite to the memory of Jay Briscoe, Tony Khan made sure to record an entire ROH show for the star. In a Twitter announcement after Dynamite, Khan notified all those interested that it will be available for Honor Club members as well as on the ROH YouTube show.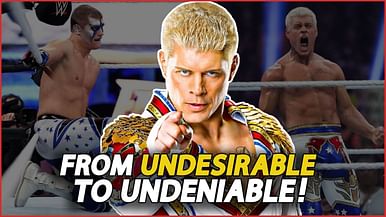 How Cody Rhodes returned to WWE and change pro wrestling forever!