On January 18th, Jay Briscoe passed away after a tragic car accident. Fans across the entire professional wrestling community mourned the death of the Ring of Honor legend.
Jay was a devoted family man and was acknowledged by his colleagues for being a great father. A heartwarming clip of the former ROH World Champion and his daughter has now resurfaced on social media.
The clip was originally posted by Ring of Honor back in 2020, as Jay was seen helping his daughter with her cheer routine at home.
Check out the video below:
Bill Apter paid tribute to Jay Briscoe after his tragic death
The entire wrestling world mourned Jay Briscoe's death after the news was broken by Tony Khan on Twitter. Sportskeeda Wrestling's own Bill Apter also paid homage to the former ROH World Champion while speaking on the latest edition of UnSKripted.
Apter mentioned how he had the opportunity to hang out with The Briscoes backstage at ROH. He also spoke about interacting with the two at Steve Corino's wedding. He said:
"I had the opportunity to hang out with him and his brother, of course, backstage at Ring of Honor quite a bit. On a personal end here, he was such a nice, sweet, fun loving guy. I remember being at Steve Corino's wedding many years ago and The Briscoes were there and I had such a wonderful time with both of them. It's such a tragedy that a young guy, who is such a devoted family man as well, has passed in an automobile accident."
In the aftermath of Jay Briscoe's passing away, his wife, Ashley Pugh, took to social media to provide a heartbreaking update by revealing that their daughter is set to undergo surgery following the accident.
We here at Sportskeeda send our condolences to his family, friends, and all those affected by his passing.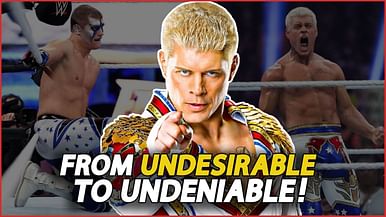 How Cody Rhodes returned to WWE and change pro wrestling forever!
Edited by Gurjyot Singh Dadial