CM Punk is reportedly ready to work outside of AEW if he cannot make his return to the promotion.
Punk has been away from the company and wrestling altogether since his altercation with The Elite following AEW All Out 2022. He sustained a torn triceps during the event, so he would still have been out of action, irrespective of the dispute. But there remains a degree of uncertainty over his potential return.
Fightful Select has reported Punk's willingness to work with The Elite in one of the numerous pitches for his return. But the trio were said to be unkeen on the idea. The report further states that the Straight Edge Superstar is also "open to working elsewhere."
It's unknown whether that would mean a shift to Punk's former promotion, Ring of Honor, which is also owned by AEW President Tony Khan. Or whether 'elsewhere' entails a departure and subsequent move to NJPW or a blockbuster return to WWE.
Punk walked out of WWE and pro wrestling nine years ago. He only returned to wrestling when he joined AEW in 2021. Fans can be encouraged by the fact that it has been reiterated by many that he wants to return somehow.
Konnan said that Tony Khan should have imposed harsher consequences on the AEW star
CM Punk has been far from quiet during his absence. The former WWE Champion has occasionally taken to social media to make subtle remarks about his situation and give hints about his return. But he recently went further to blast Jon Moxley and Chris Jericho.
Speaking on that in particular, Konnan suggested harsher reprimands should be dolled out by Tony Khan:
"I would tell them to knock it off, bro. It's not good business. Unless it's part of a angle, I would just tell them to knock it off. […] Then either you suspend them, fine them, or fire them." [6:00 to 6:17]
Punk is the only member involved in the 'Brawl Out' incident not to know his personal outcome. All of The Elite and backstage producers like Pat Buck have returned, and Ace Steel was also let go following the altercation.
Where would you like to see CM Punk next? Share your thoughts in the comments section below.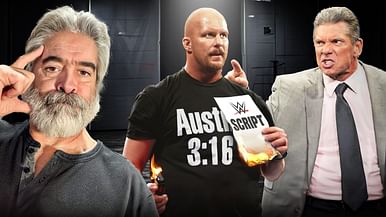 How Stone Cold was born in 2 minutes