49 Bradmanesque ton(nes) of happiness
826 //
23 Dec 2012, 14:52 IST
The cricket world has come to a standstill with the recent announcement from the 'little master', who has called it quits from the one-day format. He has finally put his critics' voices to rest, and also those of the fans who were expecting his 50th ODI ton.
It is indeed a sad day for cricket, and things are never going to be the same any more. I will never be able to call a friend and say,"what is Sachin's score?" during a working day. The joy of knowing that he is batting on 80, well on the way to yet another century will never be there again.
The straight drive, the deft caress, the paddle sweep, the inside-out shot against the spinners, the step out and hoick and the "upar cut", every shot which he has the unofficial patent for is going to be missed. Sachin has a place in every Indian's heart, and that place is going to be filled with the void of his absence.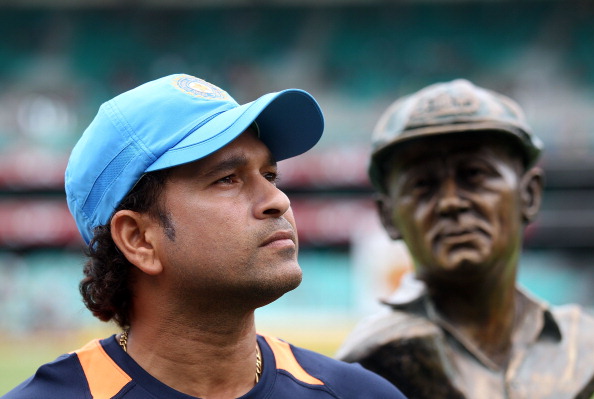 The saddest part though, is his abrupt announcement which came out of the blue. We were expecting him to play against Pakistan, get his 50th hundred and bow out in style. It hurts to know that the number will remain at 49 forever, and we will never see Sachin weave his magic with the blue jersey on him ever again. Maybe the BCCI should look at changing the colour of Indian jersey so that we don't miss the master at play.
"All the best team India for your future; can't watch cricket without Sachin! No Sachin = no cricket! Sachin is life! This is the saddest day of my life!" The cry of agony from a fan on a social networking site, the one of the millions that are renting the air, the media and all the places I turn to.
"It cannot be true!!" opines another friend who refuses to believe that Sachin has called it quits. Such has been the aura that he has created through the years; the love he has earned cannot be measured in numbers.
As a 'Sachinist', we have always awaited his arrival on the ODI scene whenever he feels like. It has been a penance for opius to behold him from the time he walks out, with his head tilted towards the heaven for a short prayer, till the time the dreaded finger rises against him.
"Crying like hell!! OH MY "SACHIN"!!
I would have been happy if Mayans were correct!
SACHIN TENDULKAR RETIRES FROM ONE DAY CRICKET!"  
Another genuine Sachin fan reacts to his idol's decision to quit the game. Yes, he has not been in the best of form, but he should have been given a chance. BCCI has played its part in this decision of not wanting Sachin to play in this format, since he would have been a liability on the field.
The Master has always given joy and happiness whenever he has batted. Even if I come back from a long day at college, my face instantly lights up and my mood improves if I see Sachin batting, or learn that Sachin has scored a century or a half-century. Sachin has been an integral part of every youngster's life much like how cricket is.
We have always expected him to be at his best, for even a fifty won't suffice. If it is him, we always expect a hundred. If any other player scores a fifty we always have a word of praise 'well played!', but for Sachin it has always been different. We would immediately comment "What?! He did not get a hundred!!?"
With Sachin's exit, things are not going to be the same anymore. Many people would stop watching cricket and definitely it is a big loss not only for his fans and Indian cricket, but for every cricket fan in the world.