5 key battles to watch out for in the India - Australia series
The limited over's India – Australia series consists of a lone T20 and seven ODI's. The timing of the series, sandwiched between two Ashes series, as well as its length has come under the scanner, with the former Australian captain Ian Chappell calling it as rubbish.
The series is the third seven match ODI rubber played in India between these two sides in the last 6 years with Australia winning 4-2 on both those occasions. The 2007 series was held at the backdrop of the monkey-gate scandal and India's victory over Australia in the inaugural World T20 semi-finals.  The series was seen as a revenge series and Australia won it quite convincingly.
India were odds on favorites to win the 2009 series, but for the close losses in Hyderabad – the match famous for Sachin's knock of 175 and India's subsequent collapse – Delhi and Australia once again took the series 4-2.
In comparison with the earlier sides, the present Aussie squad it certainly low on experience but they have won the last ODI series against England 2-1 and five of its players took part in the just concluded Champions League finals. So adjusting to the conditions would not be that much of a trouble for this side.
Besides the fight for the Number No.1 rankings – India are currently sitting pretty at the top of the rankings and Australia are placed second – and the battle between India's batsmen and Australia's bowlers, the series also holds many interesting individual clashes.
M.S.Dhoni Vs George Bailey: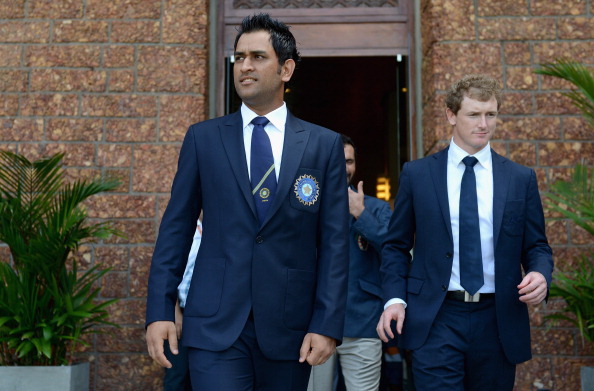 The battle of the skippers takes a centre-stage in a cricket match with both captains trying to outsmart his counter-part. The finals of the tri-series against Sri Lanka in the West Indies showed how much the presence of the charismatic skipper means to the side. As usual Dhoni will be a key figure leading the side, besides taking responsibility as the team's best batsman in this format.
Australia was dealt a huge blow when its captain Michael Clarke was ruled out. Clarke's innovative captaincy makes a huge difference to the current Australian side and Bailey will have to be at his best to match that. Besides his batting, Bailey's captaincy skills are widely talked about in the Australian domestic circuit and there has been some criticism of him being selected in the side solely for that reason. Pitted against a proven captain in limited overs cricket, Bailey will be having his task cut-out.