A letter to a legendary batsman - Sachin Tendulkar
930 //
30 Nov 2012, 22:46 IST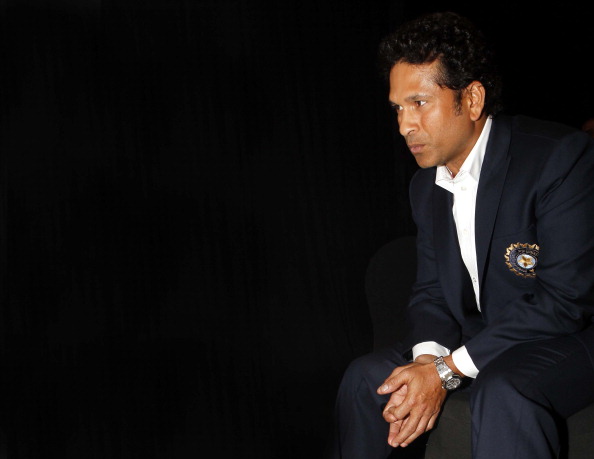 "So be sure when you step. Step with care and great tact. And remember that life's A Great Balancing Act. And will you succeed? Yes! You will, indeed! (98 and ¾ percent guaranteed) Kid, you'll move mountains." – Dr. Seuss
Oh Dear Sachin! Hope you've landed safely in Kolkata for the third test match. The above lines by Dr Seuss are best suited to you. They depict the way you have transformed from a short curly haired boy to being called a Demi–God, all by yourself. In more than two decades of your time in cricket, you've experienced, witnessed and proved everything. You swam across the deepest of the oceans, ran the best of the marathons and flew to unconquerable heights in the game you've chosen. Millions admired you heartily and only a few abhorred the time you spent on the crease. Mr. Tendulkar, allow me to narrate a story neither you nor for that matter, anyone, would've ever thought of.
Twenty years ago, when you put that protective gear and started walking to the batting crease in Karachi, I was numb and crying for milk, so small I was then. In other words, my present age equals your international cricketing experience. You may reminisce about those 16 runs with a broad smile on your face but unfortunately, I remember them for wrong reasons. I was then in my grandparents' house. My mother saw me weeping, thought I was hungry and went to bring milk. But that was not the actual reason. I started crying due to that commentary on the radio (I had no access to the television those days) describing  your match. So special was your entry at the international level and so were my early days. A few who actually came to see me when I was too small, stopped in the verandah, where the radio was kept and made comments on you and your impact on Indian cricket. That small innings drew people to my home and left me screaming for milk.
Time passed by and I was soon in a train travelling to another place where my father was employed. I was enthralled and fascinated by the speed of the train like any kid of my age. As they say, impressions at a tender age last the longest; the speed of that running train took a place somewhere deep in my mind. Even today, when I look back upon what made me become a fast bowler, I remember that very first train journey. Probably, that should've made me hold a cricket ball than a bat; something which I cannot explain when asked even today.
Ask anyone these days to pen their thoughts about you and they would be eager to bring out volumes each on your stance, your approach to the game, your time in the nets, your unassailable records and many more. I'm not here to narrate any of these, but on those two innings of yours which have a special place in my heart and about your grand retirement.
Legendary Master! Let me confess initially that I'm a pace bowler and my favorite bowler is Javagal Srinath.  It's no wonder that I analyze the game from the perspective of a bowler. As a pace bowler, naturally I cannot feel happy when runs are scored freely (Please don't think I am a pessimist). But, that's me, I have a bowler's mind. As I previously wrote, one of those two innings which I reminisce a lot even today, is the 1998 Sharjah tournament.
Now coming back to cricket, that century you scored against the Aussies on your birthday, which happens to be a day before my birthday, is precious. The way you drove through covers, the way you played that trademark sweep of yours which sent the ball past the wicket keeper and the way you made Warne look like a Ranji bowler making his debut will be visualized countless times.
Another innings I've mentioned I'd describe, happened a decade after that Sharjah triumph. This time, the venue happened to be my state capital – Hyderabad and the opponents were again the Aussies. India might have failed to chase the mammoth target set by the Kangaroos, but your 175 runs at a staggering strike rate of 124.11 is still a proof to many why we Indians trust you even today, and most importantly to those cynics and critics who think you only play for records. Probably, those antagonists should know if one happens to play long, his name would be written in the record books for many reasons.
Now then, having elucidated my two favorite innings of yours, let me conclude by saying a few lines about retirement and what it means to you and your fans.
"Pride and power fall when the person falls, but discoveries of truth form legacies that can be built upon for generations" – Criss Jami.
As the saying goes, "All good things must come to an end". It's painful to admit the fact that your won't play much longer. Of late, a few legends and your peers have left the game, a few on gracious, and a few on agonizing notes. The last brick has been laid by Dravid; the finest of the artists, Laxman has performed for one final time; one of the most belligerent batsmen of all time, Punter will be bidding goodbye within a week and you're watching all this, still playing cricket. Let me admit that the day in the near future you decide to walk out for one final time, it will break many hearts and will be written in the history books like a hero's day. Yes, Master! The game of cricket will mourn your departure and it's no wonder, bowlers around the globe will be taking a huge sigh of relief.
Dear Tendulkar, you will be cricket's immortal and once in a millennium player.
Respects, regards and best wishes!