A few cricketing rivalries — both at the international and domestic levels — have had a great history and gone on to produce some riveting battles. The Ashes and Indo-Pak matches have been blockbuster contests in the international arena. But the Indian domestic circuit has also been a witness to some of the fiercest cricketing rivalries for decades.
Apparently, Mumbai-Karnataka, Mumbai-Delhi, and Karnataka-Tamil Nadu games in the Ranji Trophy have made a special niche in the annals of Indian cricket. But of late, barring Karnataka, other traditional heavyweights have been pretty inconsistent. However, there's one team that's grown from strength to strength and made giant strides — Saurashtra.
One of the three Ranji teams from the state of Gujarat, Saurashtra has been giving a run for the money to all the traditional powerhouses. Consequently, they have earned loads of respect from all their rivals.
Against all odds, Saurashtra has come down pretty heavily on the eight-time Ranji champions Karnataka, and has had the wood over them in recent years. Conspicuously, Saurashtra has been Karnataka's nemesis over the last few years.
Karnataka vs. Saurashtra in Ranji Trophy: Head-to-Head
After their first Ranji Trophy face-off in 1999, these two teams have locked horns against each other on a total of 11 occasions, till date, in the Ranji Trophy. Saurashtra predominantly has had the upper hand in these contests.
This might sound a bit ironic considering the fact that Karnataka has been the second most successful team after Mumbai in the history of the Ranji Trophy. But Saurashtra has managed to win five games outright, losing only two, while securing the first-innings lead in two games against the South Indian side.
Unequivocally, these numbers suggest that Saurashtra has had the measure of Karnataka. The state which has produced players such as Cheteshwar Pujara, Ravindra Jadeja, and Jaydev Unadkat, finally managed to win their maiden Ranji title in 2019-20. Since then, they've been looked upon as one of the favorites to win domestic competitions, across formats.
Some memorable battles between Karnataka and Saurashtra in Ranji Trophy (1999-2020)
The very first match between these two teams was played in Bengaluru, in 1999, where Karnataka triumphed by 197 runs. Thanks to Dodda Ganesh's 10-fer (5/77 and 5/65), and J Arun Kumar's 151. Saurashtra were no match for the then-defending Ranji Trophy champions.
Later, in 2007, Saurashtra registered their first victory over Karnataka in the Ranji Trophy, at Mysuru, by a narrow margin of three runs. KB Pawan's impressive 120 went in vain as Sandeep Jobanputra's career-best effort (6/70 and 3/74) sealed the deal for the visitors.
In their next meeting in the quarter-finals of the 2008-09 Ranji Trophy in Mumbai, Saurashtra pulled off a heist to win the game after conceding a lead of 116 runs in the first innings. Apparently, in the second innings, despite being reduced to 13/3 while chasing 325, Pujara found his mojo and played a breathtaking unbeaten knock of 112, to send the Gandabherunda clan home.
After two back-to-back losses, a rejuvenated Karnataka team turned the tables in the league game of the 2009-10 Ranji Trophy at Rajkot. Ganesh Satish's remarkable outing with the bat (120 and 68*) was instrumental in seeing the team home. This victory was a great confidence booster since it was achieved by chasing a stiff target of 240 in the fourth innings.
However, in their second knock-out clash, in the quarter-finals of the 2012-13 Ranji Trophy, Pujara's highest first-class score of 352 decimated Karnataka, in Rajkot. Though they did not lose the match outright, Pujara's imposing innings destroyed their morale. Since then, it's been one-way traffic as far as the games between them are concerned.
Karnataka didn't even manage to secure a first-innings lead in the next five matches after this drubbing, let alone win outright.
Despite winning two titles on the bounce, in 2014 and 2015, Karnataka found a way to lose to Saurashtra yet again in Patiala, in 2016. Prerak Mankad's 126 ensured a big first-innings lead, and subsequently, they chased down a paltry total of 58 runs in the fourth innings, losing six wickets.
In the most eventful 2018-19 Ranji Trophy season, these two teams met twice. Saurashtra won the league game quite convincingly in Rajkot on a rank-turner, by 87 runs. Later, the stage was set for a high-voltage semifinal at Bengaluru. The return of international players of both sides had added a lot of flair to this marquee clash.
Once again, Saurashtra piled on the agony for the hosts by winning the match by five wickets. But not before a bit of drama and umpiring howlers. Pujara made full use of the reprieve he got from the umpire after being caught behind and scored an undefeated 131. He took his team to the target of 279 runs. This agonising loss hit Karnataka and its fans really hard and is, still, a hot topic of debate.
Finally, the last match between the two main protagonists of the Indian domestic circuit happened in 2020. In the league game at Rajkot, for the umpteenth time, the usual suspect, Pujara, battered Karnataka with his 248, and helped the team pile on 581/7.
After literally being pummelled and bruised, on the final day, the visitors miraculously escaped an outright loss after being asked to follow-on.
Much awaited Ranji Trophy semifinal in 2022-23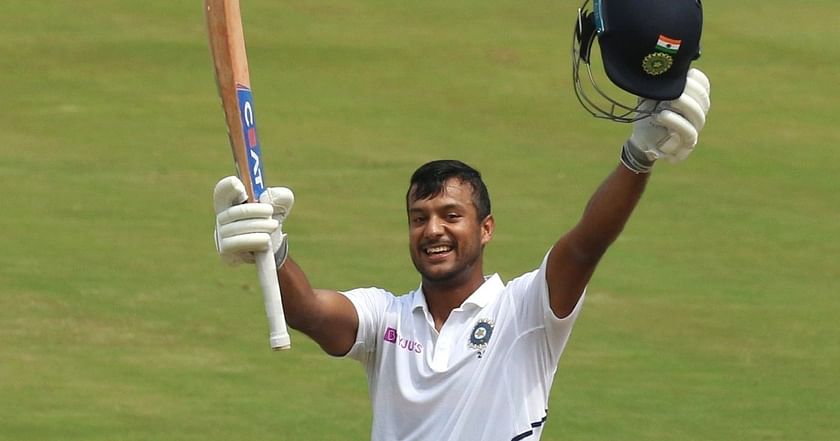 Well, as luck would have it, Karnataka and Saurashtra are slated to contest yet another semifinal in Bengaluru, from February 8th-12th, 2023. While the hosts have played peerless cricket throughout the season, Saurashtra's fortunes have waxed and waned a wee bit.
Karnataka, led by Mayank Agarwal, is pretty much a full-strength side with all their players in great form. Their seam attack looks impeccable for the first time in years — with Vidwath Kaverappa, Vasuki Koushik, Vijaykumar Vyshak, and M Venkatesh firing on all cylinders. Mind you, they've aced despite missing the services of experienced Ronit More and Prasidh Krishna.
On the batting front, Mayank Agarwal, Ravikumar Samarth, Manish Pandey, Nikin Jose, and Shreyas Gopal have all been amongst the runs. Wicketkeeper BR Sharath, too, has chipped in on a few occasions, which augurs well for them.
The spin duo of Krishnappa Gowtham and Shreyas hasn't been needed much. But they've also played their part when required. Overall, without a shadow of doubt, the Karnataka unit looks a well-oiled machine.
On the other hand, Saurashtra will be missing their famous trio of Pujara, Jadeja and Unadkat, who'll be on national duty. But there is still a lot of potential in this team to topple any opposition. Stand-in captain Arpit Vasavada will be hoping for the experienced Sheldon Jackson, Prerak Mankad, Chirag Jani, Dharmedrasinh Jadeja, Chetan Sakariya, and Harvik Desai to come to the fore.
Also, Parth Bhut's all-round heroics in the quarterfinals has added a new dimension to this relentless tweakers' unit.
Karnataka should be taking Saurashtra lightly at their own peril — especially considering the kind of havoc this unglamorous side has wrecked on them for over a decade. While Saurashtra has always punched above their weight in crucial circumstances, Karnataka has more often than not crumbled under pressure.
This factor will definitely play a decisive role in the outcome of this imminent semifinal clash.
Finally, before stepping out on the field on Wednesday, the Karnataka boys will have to get rid of the psychological baggage they carry after being mauled time and again by Saurashtra. The captain and the coach will have a lot of pep talk to do to galvanize the boys.
On paper, the hosts seem to have covered all their bases, and appear to be the clear favorites. But it's more mental ineptitude than cricketing skills that have often led to Karnataka's downfall at the business end of the tournament. Now, since it's against Saurashtra, the hosts have their task cut out.
For the record, it's been over a decade since Karnataka won a game outright in the Ranji Trophy, against their bogey team Saurashtra. And with Saurashtra not being at their dominant best this season, it's a great opportunity for Karnataka to make amends for their decades-long mishap. Not to forget, the absence of their biggest nemesis Cheteshwar Pujara is a big advantage for the hosts.
Hopefully for their fans, this time around, the team based in Bengaluru will make amends and get the monkey off their back.
Edited by Akshay Saraswat