A one-sided love affair with Ashish Nehra
679 //
01 Nov 2017, 00:28 IST
Arms stretched far and wide, body impersonating the movement of an airplane in motion, or a free bird in flight. There, right there, in his trademark wicket-taking celebration, lies the perfect symbolisation of Ashish Nehra's career. A man who thought himself to be a hero, the centre of all attraction, tried till every inch of him gave way, but wasn't.
I'm a relatively new entrant into the Nehra fan club, having missed the glory days when he was young and fit and sending stumps cart-wheeling, leaving batsmen with more questions than answers.
But my fascination with Nehra stemmed not from his skills on the field; it was more to do with his personality, his refusal to confine himself to the background even when he knew that was where he belonged. And more than anything, his ability to keep getting back on his feet, quite literally, after every setback, after every injury his body underwent, rising like the phoenix, each time from nowhere.
There are certain people you see, you know about, who begin holding important places in your life; you form unspeakable bonds with them that no one on the outside knows about. Others will find it silly, they'll laugh at you and so you keep it hidden underneath the blanket you surround your mortal bodies with.
I shared a bond like this with Nehra. For me, he wasn't just someone who ran in to bowl fast medium for India, he wasn't just another human, he was a subject of study, an object of fascination, a book that could teach me so much about life. He was, as crazy as it sounds, a really important part in answering, or attempting to answer, questions about the mortality and immortality of life and people.
****
When I looked at him, thirty-seven years of age, with creaking bones, and tried to understand why he would bother bowling in a pointless, soon-to-be-forgotten series against England, I found myself out of answers. Why would anyone put their body through such pain after having gone under the knife over twelve times? What was there to play for with no tri-nation tournament, let alone a World Cup, coming up anytime soon? Why would you not want to just be gentle with your body for the first time in over two decades, and take rest?
As I thought long and hard over the course of that series in January and even beyond, an answer did come to my mind, a rather simple one which I thought initially about but whose depth I never really understood. Nehra went through what he did, he played meaningless series like this one, because of no reason except that which lay in front of his eyes. He played the series just for what it was - a series, three twenty-over games.
Nehra had seen enough in life so as to relinquish his belief in some form of happy tomorrow. All he had was today and he needed to make the best use of it. In Ashish Nehra's world, tomorrows, if they exist, often bring doom and gloom, they bring hailstorms, not sunshine. Death, not life. If his today was giving him the chance to do the one thing he truly loved doing, he would not let it pass, no matter how detrimental it was to his body.
It taught me so much, this simple fact. We go on with our lives, averse to taking risks, hiding our true selves and for what, so we can live to see a tomorrow? What if, like for Nehra, our tomorrows bring rain and not sunlight? What do we do then? Still wait for a better tomorrow after that one? And how long before the wait gets over, and what if the wait consumes us before we finally see the happy tomorrow? Drown ourselves in regret and die?
Nehra teaches us to throw ourselves into everything our today asks of us, endure every pain that is brought upon us, to realize we are blessed if we are in a position to do something, anything we love doing. And to do that without paying any heed to the consequences, for you will suffer later anyway; and much better to suffer knowing you've experienced love and exploited your love to the hilt, extracting the tiniest drop of pleasure from it.
Nehra symbolizes the value of the present and that is why it seems so unbelievable that he will soon be a part of the past.
****
When Nehra returned spectacularly for the Chennai Super Kings in the 2015 IPL, I was at a stage in my life where I desperately needed to look up to someone, where I needed inspiration, some will to face my struggles and carry on. It was during this time that my fascination, my one-sided love story with him began.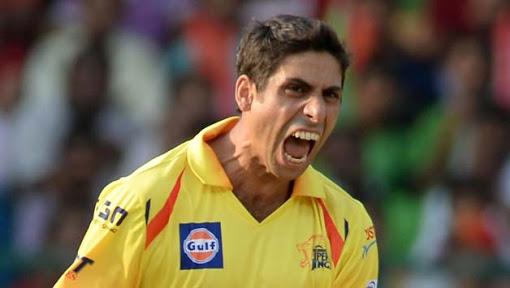 Each time he bowled, and now having read up about all his injuries and his career in general, he gave me hope. I could relate to his struggle in a very eerie way, I could relate to his experiencing pain and bearing it. For some strange reason, each time I felt down and out, I watched him bowl and it gave me strength.
What was it about him that made me drool? I guess a great part of it was his open, unabashed desire to be a hero, to be the star around whom everyone and everything else revolved even though he knew he wasn't cut out to be it, for that was a job reserved for the Kohlis and Dhonis and Yuvis of this world.
Every one of us aspires to be a hero in one way or another, but most of us are scared to embrace that side of our personalities. We are content being heroes in our own imagination, too fearful to even try taking that route in real life.
But if there is one thing in life Nehra is not, it is fearful. He was never scared of embracing this wanting-to-be-a-star aspect of himself. In fact, he was much more than happy to let this side of his be known. Be it in pricing himself at Rs. 2 Crore during the 2014 IPL auction after having been out of action for a long while, or referring to himself in the third person during interviews, or even overestimating his own value to his team(s) by leaps and bounds, Nehra was always a prince in his own eyes, even if reality suggested otherwise.
And in this absolute denial of a blatant truth, in this delusion of great grandeur, in this refusal to be confined to the background, Nehra managed to charm and fascinate me in a strange sort of way.
He made me believe, and I still do, that even though he knew the truth, he forced himself into believing otherwise for so long that in his own mind, reality became inverted. In his own mind, he was the actual star of the universe, the darling of the nation and the world.
It takes confidence of an extreme level to be so sure of oneself, to be so delusional. But it made him happy, this thirst for heroism, and that is all that matters in the end.
I try to, unsuccessfully, embrace the aspiring hero within me. I try to give it chances to come out in the open. I'm slowly gaining the courage to do that, and for that, I have endless moments of Nehra's delusion to thank.
He told me to be my own hero, he told me to get that silly character that makes its presence felt in sleepless nights or in idle, random moments, out into the open and make it a real person. To make that idealistic, dreamy self my real identity, for that is who I want to be.
I'm failing, but at least I'm trying.
****
Looking at Nehra these past two years, injuring himself and coming back again, at one time being looked at as a possible spearhead for the Champions Trophy in England, I've experienced hope, more than any other emotion.
No matter how much this world, these forces of nature, screw him over and over, he will keep getting back on his feet, looking all his enemies in the eye, if not fighting back. It doesn't matter if you clip his wings, he'll figure out a way of flying wingless. Time may stop, water may run out, air may become a luxury and Satan may be upon us, but this man won't stop, this man just won't stop, that is what my heart and even my mind kept repeating. His body may be broken, fragmented, but his spirit and his will remained hauntingly intact, firm, solid. Invictus.
Whenever I thought about mortality and immortality, silly as it sounds, Nehra's career always came to my mind. As long as he was battling, my optimistic self kept telling me some things know no end, they carry on, perennially, forever. I was silly and wrong and I knew I was, but I just couldn't get myself to think that Nehra would ever stop. It seemed to me to be a fallacy, a logical contradiction.
Nehra, for these past two years, made me believe in immortality, a childlike reason for doing so, and I can't really explain the basis for it, for you won't understand and nor do I. It's just something I feel, something that was, for two years, a part of how I viewed life.
When he announced his retirement, my reasons for believing in immortality took a massive hit. It just didn't make any sense anymore. And above everything else, I felt disturbed, shaken in a very weird kind of life-altering way.
I sometimes wonder how a cricketer came to occupy such an important part of my outlook towards life. I wonder still.
****
Arms aloft, stumps flying, teammates running wild, crowd chanting his name, the star finally being treated like one.
It is fitting that Nehra, whose entire life has been dictated by injuries, is walking out on his own terms and on the ground that he has grown up playing on. He will disappear into oblivion, his own man, having lived like one. That he will retire without any cloud of injury is the sweetest serving of justice there can be. Ashish Nehra standing tall, broken but undefeated.
Alive.
And a hero in his own right.