A three phase look at Michael Clarke's Test career
1.55K //
08 Mar 2013, 22:24 IST
October 6th '04, Australia had just lost their fourth wicket, reducing them to 149/4 in the first innings of the first Test match of the Border-Gavaskar series and in walked the debutant Michael Clarke. He did not find himself in the best of situations; the pitch was wearing as the day went on, the match was on an even keel with the Indian spinners smelling blood and Kumble had his tail-up with the entire home crowd of Bangalore urging him for more as he was on 399 Test wickets. Amidst all this, the young guy from Liverpool, New South Wales took his guard and went about doing his job with such ease and panache that those who witnessed his innings that day will surely remember it for many a years to come.
When Michael Clarke got his chance, he grasped it with all his might. Facing the charged up duo of Kumble and Harbhajan on Indian tracks is never an easy task for any batsman, experienced or not, but the way Clarke took to it was like a fish to water. He stuck to his strengths, played a lot of shots on his preferred on-side and successfully upset the rhythm of the bowlers, in the process guiding his team out of a tricky situation. What was reminiscent of the innings was his ability to trust his instincts; he did not fear playing the ball in the air and he did not fear using his feet. His confidence and timing that day ultimately led him doing both of them fantastically and finishing the day 76 not out. The next morning he took over from where he had left, this time getting the better of Indian seamers Zaheer and Pathan. He got to his maiden ton after flicking the ball towards the mid-wicket region for a quick couple of runs and jumped in the air with elation as he completed the second. The entire dressing room was standing to applaud the young-man's momentous achievement. His parents in the crowd could not conceal their tears and even the frustrated Indian fielders offered him a meretricious applause. Michael ended up scoring 151 and Australia ended up winning the first Test match easily.
"The over before I got Tendulkar out, I just turned to Punter and just said I'd get him a wicket next over. It was more a**e than class, I think!" - Michael Clarke on his surprising scalp of Sachin Tendulkar during the fourth TVS Cup match.
His performances in the series were vital in Australia winning their first series in India after more than two decades. In Clarke, Australia had unearthed a complete package – A good middle-order batsman, a quick fielder and a tricky left-arm spinner who was more than capable of unsettling the batsman (He recorded figures of 6 for 9 in the last Test in Mumbai). Up next was a home series against Oceanic rivals New Zealand which Australia easily won and Clarke added another ton to his glowing resume. Talks were rife about Clarke being the future successor to Ponting, critics reasoned that he would learn the Australian way of leading the Baggie Greens under Ricky's tutelage and with age on his side, would be ready as and when Ponting decided to hang up his boots. Everybody was in a state of glee; Australian Cricket had found their future captain, but just when things seemed to be cruising perfectly – well, the bubble burst.
As has been the case with a lot of sports personalities before him and will be the case for a lot of them after him, quite often when you become successful at a young age, it invariably gets to your head and results in you taking things for granted; well, this was exactly what happened with Clarke as well. After his initial bombastic arrival of sorts, his form soon dipped and the callous attitude he portrayed on the field made it appear as if he did not care much.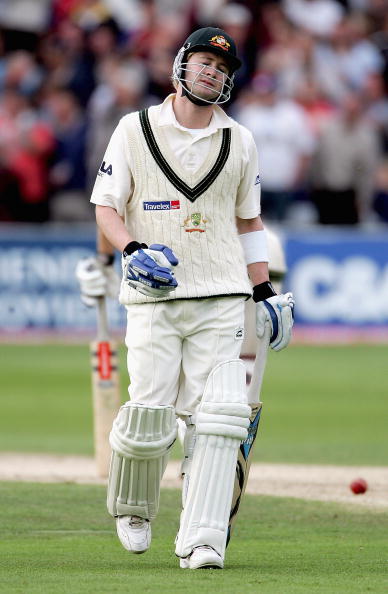 Clarke was noted to have a problem with deliveries undergoing a late swing during the initial part of his innings. Those who have watched him closely over the years know he takes his time settling in, calming his jittery nerves and controlling himself to the best of his capabilities to not flash at anything wide. He got starts and then threw them away, as was prevalent in the 2005 Ashes loss. Clarke received scathing criticism from various parts of the media for this (who were yet to fathom the fact that Australia had lost the Ashes) and it seemed that he would wilt under the pressure now enforced upon him. His much publicized affair with model Lara Bingle did not help his cause either.
The one thing which worked in his favour was that he was lucky to be a part of a very strong Australian batting line-up, batting with the likes of Ponting, Hayden, Gilchrist and Langer often took the heat off him largely because of the fact that that Australian was victorious in almost every series they took part in including the 2007 World Cup in the Caribbean.
What soon became clear was that Clarke was a luxury Australia could afford and not a necessity they badly needed and it was a hard fact he had to suffice himself with. He finally broke his Test hoodoo of not scoring a century for over two years when he scored a hard fought 124 off 318 balls against England at Adelaide and provided Australia with a perfect platform to revenge their Ashes defeat, they ended up walloping England 5-0, only the second time in the history of Ashes.
He soon became a bit more consistent and seemed to have found a way out of his slump but you still felt he had yet to unleash him. There was more gas left in the tank and at the same time you wondered if he would ever reach the heights his talents are worthy of?
An incident during the infamous Sydney Test of 2008, had him standing at the crease after clearly knicking the ball to the keeper off the bowling of Kumble, but to the awe and shock of the Indian players, umpire Steve Bucknor (whose career literally ended after his horrendous decision making in the Test) stood motionless as well. This decision of his drew a lot of flak from the media and there were questions raised as to whether he possessed the right temperament required of an Aussie captain.
"At one stage I was hoping to bring out a squash ball because that's how well he was seeing it." - Morne Morkel on bowling to Michael Clarke, who scored his fourth double-century of the year 2011.
During Australia's tour of New Zealand in March 2010, Clarke left the tour to return to Sydney for "personal reasons". He later announced his split with Lara Bingle and followed it up with an army cut, shedding his playboy image with this act of his.
Well, this turned out to be a renaissance of sorts for Pup and although he again went through a period of loss of form, when he emerged from it, he appeared so strong that he captured the attention of the entire cricketing fraternity with his batting exploits. Clarke took over from Ricky Ponting as the Australian Captain after the 2011 World Cup and to say he has been on a purple patch since, would be an understatement because truth be told, he has been on a purple patch of purple patches.
Suddenly, he had every facet to his game; he could drive, he could hook and he could even persevere in the middle for days for the sake of his team. It seemed as if after almost half a decade we were finally going to see what Michael Clarke is all about and what was it that his youth coaches always boasted about. He scored three centuries in 2011, post becoming the captain including a stunning 151 against South Africa at Cape Town, although later on Australia folded for a meagre 47 in their second innings, culminating in an embarrassing loss for the Baggie Greens in Pup's first Test as captain in South Africa. He bounced back strongly from this and master-minded a 4-0 whitewash of the visiting Indian team.
During the second Test of the series against India, he notched up his highest ever Test score of 329* in Sydney and declared out of respect in order to avoid crossing legendary batsman Sir Donald Bradman's Test high of 365. I remember watching that innings, he showed such composure and calm that even after being an ardent Indian cricket fan, you could not help but applaud this mammoth effort. It was the kind of knock you'd show to your son and tell him to imbibe as much as he can from it.
Unfortunately for his opponents, this was only an indication of what was to come in what has truly transpired to be "Clarke's Year" in Test cricket. Clarke amassed four double centuries during the calendar year, making him the first and only batsman in the history of Test cricket to achieve this feat. He currently finds himself in an uncomfortable situation as a captain. Having being humbled badly by India in two back-to-back Test matches and heading into the third with not so much hope, he has his task cut out. He will however, derive pleasure from the fact that his own performances have been nothing short of splendid, his ton in Chennai was a reminder that last year was no fluke.
It's been a long and hard journey, but ask Michael Clarke and he will say it's been worth it. He now is the backbone of Australian batting and you realize you fear him when after reading the score at 92/5, the first question which pops into your head is – Is Clarke still in the middle? He is not as elegant as Laxman or as destructive as Gilchrist, but he is a player in his own element and one who has his own distinctive style and strengths. He is the type of player you respect, a type of captain you'd always want your team to have.