A fan's plea to Sachin Tendulkar
2.23K //
25 Nov 2012, 22:10 IST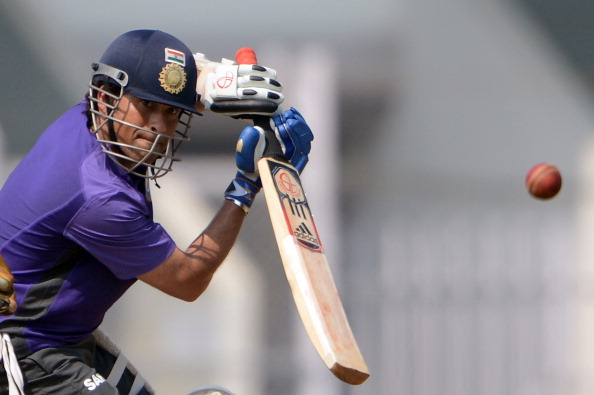 Dear Sachin,
I shall start by saying that I have never been a fan of yours per se, but I have always respected your contribution to Indian Cricket and the belief you have instilled among the Indian public. You, Sir, are the one person capable of bringing an entire nation to a standstill with your batting wizardry. The love we Indians have showered on you is unparalleled. But something has not been right off late.
Ok, so where do I begin? Year 2010. That, in my opinion, was your best year in International Cricket. 1998 being a close second. You were in sparkling form and you helped India maintain the No.1 ranking in tests. Hundreds were flowing off your bat with amazing ease. I remember your immense innings of 146 in the New Year's test of 2011, against South Africa in Cape Town. Up against a marauding Dale Steyn and Morne Morkel, you were unbelievably good. Everything that was thrown at you was dealt with utmost calm and perfect application. You helped us save the test and India drew the series 1-1. That, in my opinion, is one of the finest test innings of all time.
Then came the World Cup. It was your 6th World Cup, and also your best chance of lifting it for India. You were in amazing touch. The century against England was a visual treat for cricket fans. You were also the 2nd highest run scorer. India eventually won the World Cup. Your dream, along with a billion other Indians', was finally realized. We rejoiced along with you. It was an Indian's delight to see you with the World Cup trophy. I half expected you to retire from the ODI arena, but it was not to be.
Then came the 100th century mania. It would have been perfect for you to get to that milestone in the World Cup final, but alas, it couldn't be so. I was personally fine with it. I wanted that milestone to come in the tests against England at Lord's. It can't be any better for any International level batsman. But again, it was not to be. That tour turned out to be disaster for India and for most other batsmen too. You came close to a ton at the Oval but we had to wait longer.
We waited through more disappointments. You missed yet another ton at your home ground against West Indies. Then in Australia, you showed your sublime touch, but that landmark was still elusive. The landmark eventually came in the Asia Cup against Bangladesh. You scored a century at a little less than acceptable rate. But the country rejoiced. Your triumph was the country's triumph. Most of us had seemingly ignored the fact that India had lost that match, and hence couldn't make it to the finals. And that some responsibility for the loss could be attributed to your slow pace of scoring. I expected you to call it quits from the game after the Asia Cup, but it was not to be.
After a few months' gap, you were back to the cricketing field as India faced New Zealand. Things were not looking good as you were bowled in all the three innings. Just maybe, the reflexes looked a touch slower. I expected you to make a call on your retirement then, but it was not to be. You went to South Africa to play for Mumbai Indians in the Champions League. You failed again. It was actually a bit sad to see a champion cricketer like you struggling to make runs.
Now, we are into the India-England test series. You had suggested in one of the interviews that you would be assessing your retirement plans in November. I thought, maybe this would be your swansong. Things haven't looked good, and you have failed yet again in both the tests.
You are the last outlaw of the Golden Generation of Indian batting. Rahul Dravid and VVS Laxman called it quits post the Australian debacle. India has probably unearthed their replacements in the form of Cheteshwar Pujara and Virat Kohli. I completely respect your past records, contribution to Indian Cricket and your very presence on the field. But over the last 16 test matches, you have averaged 31 with just 5 half centuries. A clear indication that the best is behind you. Even more disappointing is the manner of your dismissals. Quite clearly, the reflexes have taken a hit.
It is not that we do not have replacements ready. With Rahane and Tiwary waiting in the wings, I am sure Indian Cricket will do just about fine without you. I want Sachin Ramesh Tendulkar to be remembered as a legend who was India's best batsman for a good part of two decades and a demigod within the country. Not as a player, who hanged on to the team in the dying stages of his career, purely based on his past records.
Though I feel that the damage has been done already, but as they say "Better Late than Never". With all due respect to you sir, I request you to consider your retirement plans and make a decision on it at the earliest. It will be the most emotional retirement in the history of Cricket, and a huge number of people in India might even quit watching cricket altogether. But looking into the future, Indian Cricket needs a change, and it needs it immediately.
Deepest respect
An Indian Cricket Fan