Ashes 2013: 1st Test, Day 1 - Heroes of the Day
1.74K //
11 Jul 2013, 00:54 IST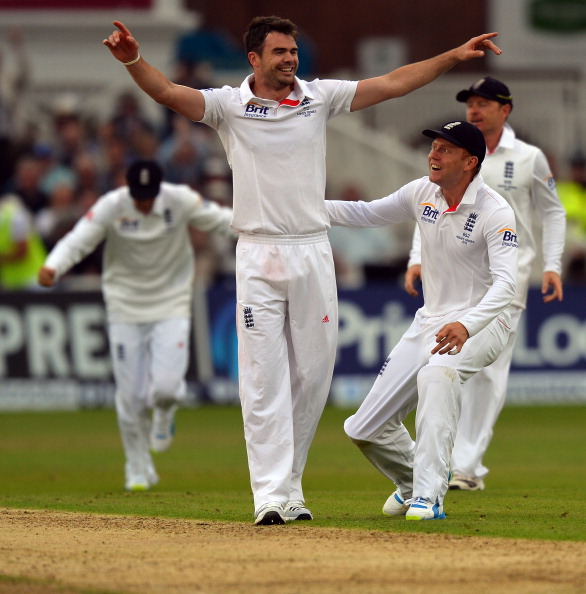 After a long build-up to Test cricket's most intense rivalry, the  Ashes got underway at Trent Bridge under cloudy skies and much colder temperatures than we witnessed during the Champions Trophy. At the end of the first day's play, both sides were fairly even in terms of their bowling efforts. The batting did come unstuck for the hosts, but their bowlers displayed enough firepower to leave the Test poised at equal levels.
Here are some of the Heroes for the First Day:
Jonathan Trott (48 runs off 80 balls; 9 fours)
Having lost skipper Alastair Cook early, it was left to the dependable Jonathan Trott to bail his side out of trouble, and he did so with great calm. He added 51 runs with young opener Joe Root and another 24 with the returning Kevin Pietersen to try and lend some credibility to the final tally. Trott scored most of his runs in boundaries, punishing both James Pattinson and Peter Siddle for some wayward bowling, before being castled by the latter with an incoming delivery just when he was looking set for a big score. Nevertheless, it was a fine performance by the No.3 batsman.
Jonny Bairstow (37 runs off 51 balls; 7 fours)
Wicket-keeper Jonny Bairstow, playing in the middle order as a specialist batsman, also turned in a reasonable performance with the bat during England's first innings. He played some good shots on both sides of the wicket, the highlight being an upper-cut to the mid-wicket fence off left-arm pacer Mitchell Starc. An error in judgment brought about his downfall – Starc fired in a fuller length ball, and Bairstow tried working it on the leg side instead of playing it with a straight bat, leading to his off stump being uprooted. In his brief stay at the wicket showed, he diisplayed patience in playing a watchful innings.
Joe Root (30 runs off 64 balls; 6 fours)
Sent in to open the innings alongside his captain in his first ever Ashes game, young Root played himself in before opening up his shoulders and scoring boundaries almost at will. The highlight of his innings was a superb leg-side flick off Siddle that raced away to the mid-wicket fence, propelled by sheer timing. But a yorker on length from the Aussie pacer uprooted Root's stumps, denying the youngster a substantial score, and ending a blossoming partnership between him and Trott.
Stuart Broad (24 runs off 30 balls; 5 fours)
Stuart Broad showed why he is a more than capable batsman as he tonked pacer James Pattinson for consecutive boundaries. The blond-haired left-hander scored all his runs at a fast clip before falling to the short delivery around middle and off. Those 24 runs, however, were worth their weight in gold for his side.
Peter Siddle (5/50 in 14 overs)
Following the retirements of Glenn McGrath and Brett Lee, Victorian fast bowler Peter Siddle has taken up the mantle of spearheading the relatively young pace attack of the current Australian side. Bringing all his experience into play, the 29-year old bowled with rhythm, purpose and fire to rattle the England batsmen thoroughly. He started off proceedings by removing Joe Root with a clever yorker, before hooking the big fish as Kevin Pietersen edged one to skipper Michael Clarke. Siddle then took out top scorer Trott, Ian Bell and Matt Prior to finish with his 8th five-for in Test matches. Australia will look to him to carry on with this sort of form right throughout the series.
Steven Finn (0 off 1 ball; 2/37 in 8 overs)
The tall paceman messed up a review after edging a swinging delivery from Aussie left-arm quick Mitchell Starc to the wicket-keeper. Replays confirmed the edge, although Finn was quite displeased with the outcome. He nevertheless managed to get revenge of sorts when he removed the dangerous Shane Watson for 13 before taking out Ed Cowan with a full delivery outside off. Since he is hitting the deck hard, Finn can prove to be quite a handful for the Aussies.
James Anderson (1 n.o. off 6 balls; 2/25 in 10 overs)
Anderson didn't do much damage with the bat in England's first innings, but he did produce an inspired spell of swing bowling to dismantle the Australian top order. He struck a devastating blow to the opposition by castling rival skipper Michael Clarke for a duck with a ball that angled back in a long way and knocked over the off-stump. Towards the end of the day's play, the seamer took out opener Chris Rogers with a delivery that swung in and hit him on the pads. Anderson is one bowler that could swing it for his side in this contest.