Commentators vs Indian team - A dream match
1.27K //
26 Nov 2012, 18:22 IST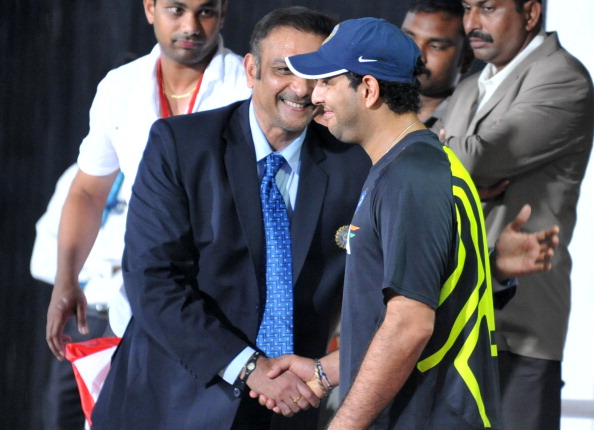 Every sports fan has a dream team with the best players of the world irrespective of the game and he considers his dream team to stand above all the other teams. Now, in the ongoing test series between India and England, consider a dream match. The dream match is to have a match between the commentators of the host broadcasters versus the host nation, India. These commentators entertain us throughout the match and give out expert opinions. Consider them playing against the Indian team.
The Indian team remains the same and the commentator team consists of some greats. Let's compare to see how they would fare against their counterpart.
Navjot Singh Sidhu vs. Virender Sehwag
Sidhu was most commonly known as Sixer Sidhu during his playing days, and Sehwag on his day can hit 10 out of 10 balls out of the stadium. Sidhu's back to back 4 half centuries in the 1987 world cup still stand out whereas Sehwag has the highest score in ODI cricket, of 219. The equation tilts in favour of Sehwag because that is his natural game whereas Sidhu's was game was honed through practice.
Sourav Ganguly vs. Gautam Gambhir
Legendary cricketers are known not to have successor for a long time. Sourav Ganguly was referred to be the God of offside but was soon succeeded by another stylish left-hander Gautam Gambhir. He might not be as tall as Sourav Ganguly or be the God of offside, but has all the shots under his belt to hit the ball out of the stadium. On his day, Gambhir could be bowler's nightmare.
None can forget Sourav's match winning knock at Kanpur against South Africa in 2008 where on a rank turner, he scored a patient 87 to help India get vital lead in the first innings and with that innings, he single handed change the course of the match. Given all credit to Gambhir, he hasn't scored enough to match Ganguly's aura as a batsman. Sourav Ganguly wins the points for the commentator's team for this spot.
Rahul Dravid vs. Cheteshwar Pujara
One has remained the wall of Indian cricket for more than a decade and the other is tipped to be the next wall of Indian cricket. The early indications show Pujara has the right ingredients to build himself as the next wall of India. Both of them will hold the important number 3 position for their respective teams. My points remain divided among both of them; it would be worthwhile to wait and watch these two accumulators in action on the field rather than making any early assumptions in this dream match.
Sachin Tendulkar vs. Sunil Gavaskar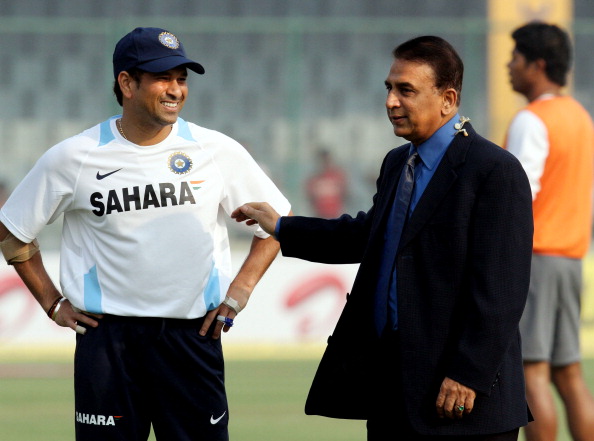 With due respect to both the legends of Indian cricket, comparison would be an utmost insult to their styles of playing but if they stand opposite to each other in a charity match, who would be a better player for their respective team?
Sachin considers Sunil Gavaskar as his idol whereas Gavaskar says Sachin is the best batsman in the world. Choosing among them is not difficult but similar to moving the Mount Everest. The whole world is fan of their straight drives, but Gavaskar would be more useful in a test match. On the other hand, in an ODI or T20I Sachin would remain everyone's choice. Since this dream match is a test match, the equation seems to favour Gavaskar.
Both have led India to a World Cup win, both have been dynamic in their thoughts. In a match where they both are the captains of the opposite teams, attacks and counter-attacks will be made.
The equation would favour Kapil Dev because he is as good a batsman as much he is a bowler and is considered one of the best all-rounders of the game. He was also voted as Indian cricketer of the century. Dhoni has to deliver much more before he could achieve that status.
Ravi Shastri vs. Yuvraj Singh
Ravi Shastri and Yuvraj Singh – both elegant hitters of the ball. In prime form, they can be unstoppable. Both are capable of snatching a win from the jaws of losing. Both of them could be used as handy part-time spinners but Yuvraj wins the battle because of his mental strength shown in his return to field and performance after his treatment of life threatening disease, cancer.
Shane Warne/ L Sivaramakrishnan vs. Ojha/Ashwin
The spin department is the most important part of a team while playing in India, irrespective of the format of the game. One thing common between both the teams is that they have a south Indian spinner, but the main difference here is Shane Warne. Even on a flat track, Shane Warne will be the most lethal spinner in the world. His experience will always be a psychological advantage for whichever team he plays for. The commentator's team win another point.
Harsha Bhogle vs. Duncan Fletcher
Harsha Bhogle has followed the game since the year 1987 but he cannot be a coach since he has not played any cricket at international level but he could be the team manager of the commentators' team. His sharp understanding of the game and management degree could be utilized by the team to full extent. Duncan Fletcher has had great success in his coaching career but his last 16 months as Indian coach seem to have got many to criticize about his coaching style.
The beam balance shifts again in the favour of the commentators' team.
The commentator's team would look like as follows:-
Sunil Gavaskar
Sourav Ganguly
Rahul Dravid
Navjot Singh Sidhu
Ramiz Raja
Arun Lal
Sanjay Manjrekar (wk)
Ravi Shastri
Kapi Dev (c)
Shane Warne
L  ShivaramaKrishna
Coach/Team manager- Harsha Bhogle
Now, let the game begin!