County Cricket: Chanderpaul hits the ton trail
769 //
22 Mar 2013, 15:08 IST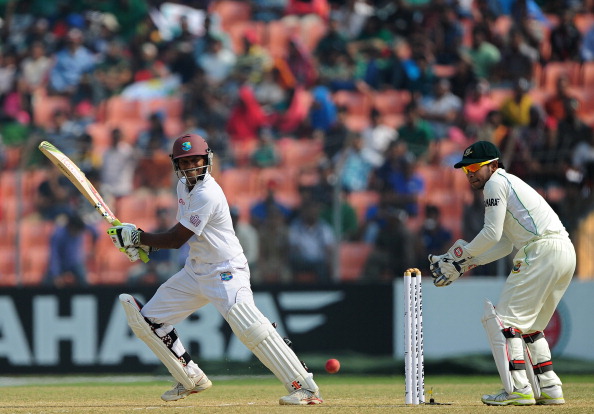 Less than twenty days to the season and Shivnarine Chanderpaul scores, somewhat surprisingly, his first century against Zimbabwe.
I liked the comment of a contributor over on Cricinfo, who said "Chanderpaul reminds me of T-1000 from Terminator 2. You shoot at him, blow him apart with a howitzer, run him over with a car, he will keep coming at you. Relentless, unwavering, and unflinching. He is almost mythical that way."
Quite…and he's coming to play for Derbyshire this season. Great, isn't it?
It is quite possible that Chanderpaul came up with another 'first' today, as there can be few incidences in the history of cricket where a man has made a Test century after his son has made his first-class debut. I certainly can't think of anyone else, so there's a challenge for statisticians out there.
Closer to home, I got a copy of the Derbyshire Cricket Yearbook today, an event that has always heralded the imminent arrival of the season. For years – since 1971, to be precise – I've looked forward to the yearbook coming through the letterbox and have managed to complete my collection, going back to the first edition in 1954.
For me, its heyday was under the late Stan Tacey, who made it into something that was an invaluable resource and packed with reading. My favourite edition is still the 1970 centenary edition, which contains a number of articles of reminiscence from former players. I have a couple of copies, one of which is never too far from the side of my bed.
I'd read some negative comments over on the Falcons Forum and have to say that on this occasion, I agree with them. I don't think Derbyshire miss many tricks these days, on or off the pitch, but this goes down as an own goal for me.
I had hoped that our first trophy in twenty-odd years might herald a bumper edition. I know that we run a tight ship financially and that there are other priorities. I know, perhaps better than most, that these things cost, because I spent the best part of 15 years producing local history books and booklets, among many other things, for a local authority.
But I also think that last season's efforts deserved something better than thirty pages. That it goes out to members as a freebie is presumably a factor, but perhaps consideration could have been given to a paid, limited edition version for those that wanted a keepsake. Maybe there's something in the pipeline that I'm unaware of, but a fifth trophy in 140 years should have had more than this somewhat limp offering.
The thirty pages also contain far too many errors, with 'Borrinton' disappointing and "word's with commas that dont need them", along "withwords that are run together", as I've just illustrated. I've dealt out plenty of praise in the last twelve to eighteen months, but I'd have to say that this is a poor effort. Better proof reading is needed next time, for sure.
I do like the full scorecards, including one-day games, but the photos don't turn out especially well (like last year) and a rethink is definitely needed to commemorate our 2013 championship win…
On that optimistic note I close for another evening. The boys will be back tomorrow.
I do hope someone has warned them that it's not shorts weather back home.