Do the media reports affect selectors' decisions?
1.79K //
20 Jan 2015, 01:02 IST
The margin of error in cricket is so slim, it's almost shady. Please stand up and take notice of the two narratives below:
John had decided to play a defensive shot on the first ball and went on to score a century.John had the game of his life. He blasted every ball that came his way with elegant poise and steered his team to a much-needed win. Father time has not yet managed to defeat John and it seems likely that he will continue to defy critics who are looking with an eagle eye for any signs of decline.
John had decided to hit the first ball out of the stadium and ended up being bowled. John is completely over the hill and needs to retire to make way for the next generation to assume the mantle from the old guard. It is sad to see a man living in denial, unable to accept that his presence is detrimental to the team. One needs to gracefully surrender to father time and walk away with dignity, instead of outliving their welcome and being dragged away.
Take a moment to soak in how silly it is that which of the above intros are printed in the next day's newspaper, can depend on a minuscule error in judgment. The entire narrative of a player's career can take a steep upward or a plummeting downward trajectory in the media based on how a player plays one ball, which subsequently opens the door to playing further deliveries which can result in a stellar performance. Or it opens the trapdoor below causing a downward slide towards purgatory.
The phrase "Over the hill" is perhaps being used too literally when it comes to the cricket team selection in India. Truth be told, there is no literal, specific point, past which a player's abilities begin a downward descent. There is no discernible moment post which a player's form takes a steep and constant decline. Form can fluctuate day to day and although players do eventually decline, their decline is almost always prematurely pronounced in the media.
The selectors said preference was given to performers
"Seniors were also considered [for selection]. There was a discussion on everyone," said BCCI secretary Sanjay Patel. "But the thought process was to give preference to performers. The youngsters have been doing very well at the domestic level so they could not be ignored. Barring major injuries, the World Cup squad would be from this lot. Captain's views were also considered."
Here is the squad chosen to represent India at the World Cup- MS Dhoni (c), Shikhar Dhawan, Rohit Sharma, Virat Kohli, Suresh Raina, Ambati Rayudu, Ravindra Jadeja, Ravichandran Ashwin, Axar Patel, Bhuvneshwar Kumar, Ishant Sharma, Mohammed Shami, Stuart Binny, Umesh Yadav and Ajinkya Rahane.
"I would not like to comment at this [whether it is the end for Sehwag and Yuvraj in international cricket] level as I mentioned earlier. I think all of us should be happy that a lot of young cricketers have been considered for this, as a part of the probables. I feel that considering the future after the World Cup is also part of the thought process," said Sanjay Patel. Apparently Yuvraj's three centuries scored in the Ranji Trophy did not merit enough weight in the thought process.
As the saying goes, 'There are three types of lies. Lies, damn lies and statistics.' Numbers can be used as a Brahmastra to be the deciding factor in an argument. The conclusion they help derive also depends on who wields them. The sun was out for 12 hours today. It is clearly losing its sheen. We ought to find a different god to worship. 12 hours! Beat that. I am willing to bet that the above rationale was espoused some time or another in the past to denounce sun worshipers. If the sun is so powerful, why does it go 'lull' at night?
Coming back to Earth, one of the reasons that Sachin Tendulkar found it so difficult to get his 100th century was a Prometheus sized burden placed by the expectations placed upon him. When the masses refer to you as God, and you aren't even a religious figure, that is a gargantuan weight by itself. Media scrutiny is a added weight. When a player proves time and time again that they deserve to represent the country, when they have rescued their team with brilliant performances time and time again, should we not give them the benefit of doubt?
The selectors should select teams only by plain, raw facts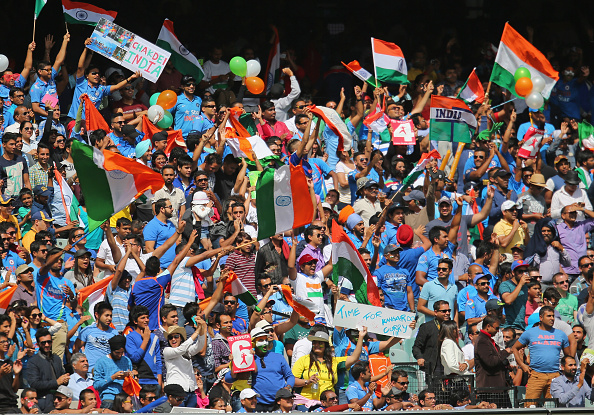 Can we say that a series of consistently poor performances are evidence enough to condemn a player towards retirement? Is condemn too strong a word here? At some point the selectors need to play devil's advocate and put the name of some players in the Death Note. It is not an enviable job to decide if the idols of millions will get to play in the World Cup.
What if the selectors were insulated from all media coverage except the actual matches? Their only source of information would be the official scouting reports released by the team officials, match and practice footage, and statistics. No wisdom of pundits, no flaming editorials, no experts blowing hot air. Just plain, raw facts.
Living in the information age, it seems inconceivable to envisage a situation such as this. We can't construct a Truman Show glass bowl to keep the selectors immune from the opinions of the masses. But something of this sort is being done and it has a name- Jury Sequestration.
In countries where legal cases are also tried by a jury of peers, if there is a chance that the jury can be unduly influenced by the media or otherwise, occasionally the jurors are sequestered. This measure is also used to avoid the chance of jurors being bribed, threatened or unduly persuaded.
I am not making the case for any particular player's inclusion here. I just feel very strongly that the media's influence holds sway with the selectors and it ought to be diminished in some way. Of course there are innumerable factors at play which determine who is selected. But it would be nice if in some way the influence of critics would play a smaller role.